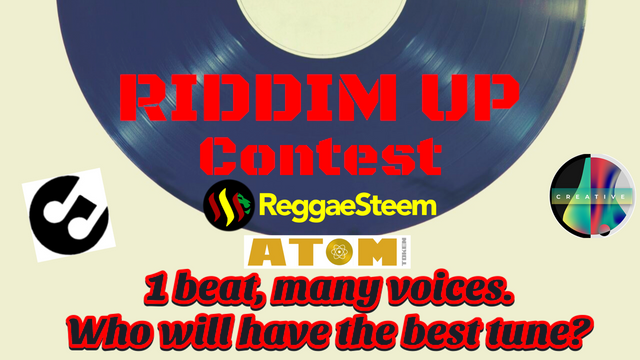 Greetings music lovers! Welcome to the first RIDDIM UP Contest. If you are a recording artiste in any form, this contest is for you.
Wait, what is a RIDDIM?
A Riddim is an instrumental and usually refers to a dancehall/Reggae beat, but any beat is a RIDDIM.
In Reggae/Dancehall culture a Riddim will have numerous artistes voicing their tunes on the same Riddim. Usually all the recorded tunes get released and DJs mix them back to back in what is known as juggling.
We are bringing the RIDDIM /Juggling culture to the blockchain and collaborating with tribes that have anything to do with music. We feel it is important for the communities to work together and build good will, unity and awareness in order to strengthen and build the tribes as well as the entire Steem ecosystem. Here are a list of the tribes that are involved in this contest.
Contest creator @ReggaeSteem
Sponsors
@TunesToken
@AtomCollector
@creativecoin
@sonicgroove
We thank these tribes for collaborating with us on this contest.
We plan to bring this contest outside of the blockchain in the near future in order to attract music lovers to the blockchain as having a steem account will be must to enter. Feel free to contact us in discord if you have any ideas.
How to enter the RIDDIM UP Contest
First of all there is one RIDDIM that all entrants can create their awesome tune on. Listen to it on Dsound, the download option is available. Note, the rights to this track are owned by MrFloridaKeyz & @ReggaeSteem. Distribution of this works /publishing is strictly prohibited. However you can upload your track to blockchain based platforms such as Dsound, Choon and Musicoin but you must put "Produced by MrFloridaKeyz" in the description.
Rules
Record a tune on the Riddim provided below. It doesn't have to be professional but should be audible and pleasing. Record it on your phone, home studio, pc, professional recordings are obviously welcome.

Upload the track to @Dsound or use a video with the audio and post it on the newly released reggaetube.io, make sure to use the tags:
#riddimupcontest #jahm #tunes #creativecoin #sonicgroove #atomcollector
( Please be careful with tags on Dsound. If you mess it up, please do a separate post here on Reggaesteem with the proper tags, posts must appear on Reggaesteem.)

Use these in your title:
"Entry to the Riddim Up Contest Vol #1 ( Title of your song) ( by @abcd)

Resteem this post

Your vocals on the track must be at least 1min 30sec

Post the link to your entry in the comments section of this post.
Prizes
1st prize
1,000 JAHM
1,000 TUNES (Staked)
250 Atoms
200 CreativeCoin
2nd Prize
750 JAHM
750 Tunes (Staked)
100 Atom
100 CreativeCoin
3rd Prize
500 JAHM
500 Tunes (staked)
50 Atom
50 CreativeCoin
All other entrants get proper up-votes on their posts from the various tribes ( including our ambassadors) collaborating on this contest. So be sure to use the correct tags as mentioned above.
The RIDDIM UP Contest Ends August 28th Wednesday at 11:59 PM Eastern Time ( Jamaican time )
All languages welcome. Music is universal.
How will the winners be chosen?
Voting will take place on the ReggaetSteem Discord on the Channel titled #RiddimUp. On August 28th the posts will appear in this channel. If you are entering this contest, encourage your friends to join the discord and give your track a thumbs up. Our community will be giving their favorite tracks a thumbs up on the channel as well so it is balanced.
Let's get JAHMIN
We look forward to your BIG TUNE
in the RIDDIM UP CONTEST
Listen & Download the RIDDIM below ( Note: Download may only be available on desktop. Click download on the dsound page of the song, then it will take you to a music player page. Right click the three dots on the music player to download. Alternatively Here is a google Drive link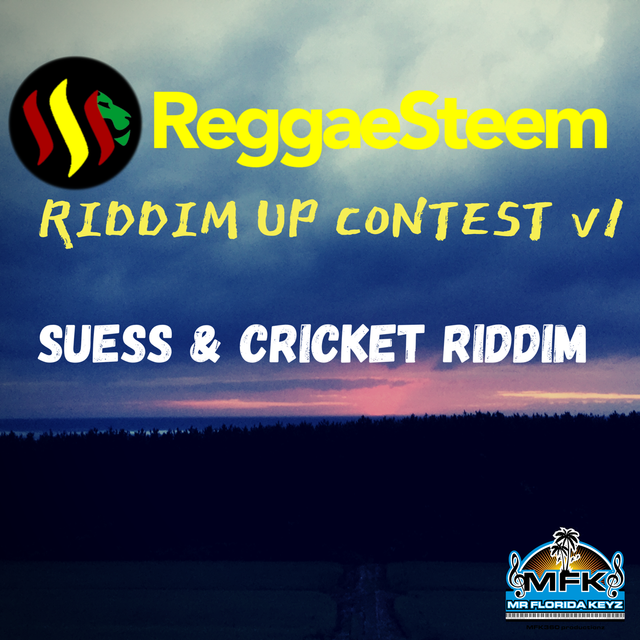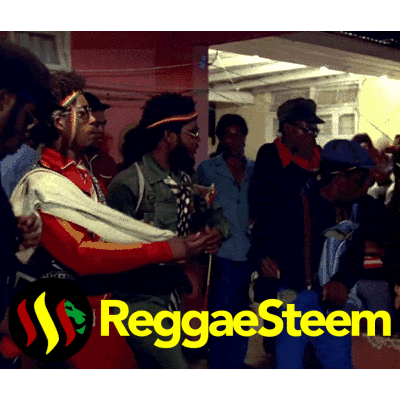 Thank you for being a part of this journey. We look forward to growing with you and bringing Reggae Culture and a nation onto the Steem blockchain.


Web| Tribe| Discord| Telegram| Twitter| YouTube


---

Posted via ReggaeSteem.io | Reggae Culture Rewarded