When traveling to Negril, Jamaica, you will be overwhelmed with the amount of food options available. If you're like me and like to eat, then the overwhelming quantity of places to go becomes more of a head scratching phenomenon than anything else.
"Do I want jerk or seafood?"
"Traditional Jamaican food or a break from all the local eats?"
"Do I go street-side or find a place on the beach?"
"What about that guy over there cooking jerk from an old metal drum?"
There are so many options, you simply cannot go wrong. If you want fresh seafood, there's a place for that. Jerk chicken - everywhere you turn your head you'll get a delicious whiff of the rich flavors and spices brewing virtually the entire 7-mile. Whatever you choose, I can almost guarantee satisfying your every need.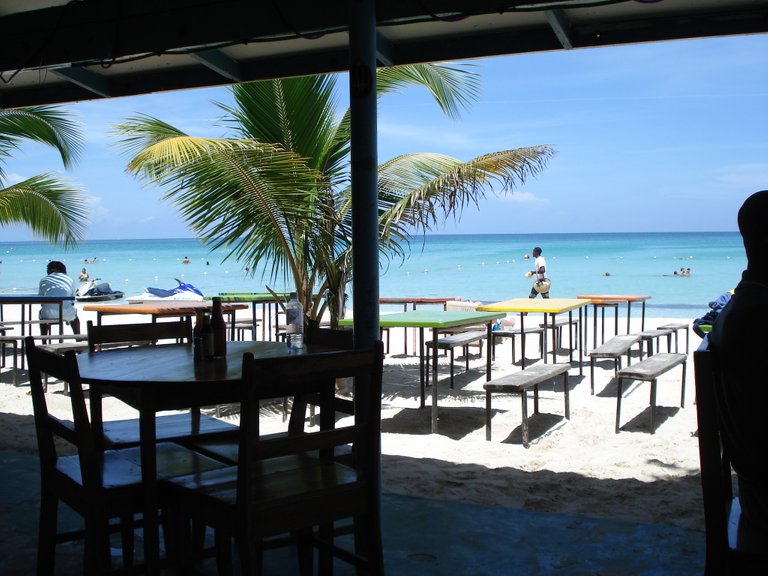 Beachfront Views From Alfred's On The Beach
When you find a place you like, you'll end up going back. One place on the beach that I have grew quite fond of over the years is Alfred's Beachfront Restaurant. One of the main reasons I like Alfred's so much is the diverse array of options to choose from. The catch is "specialty country style cookin'." If you want local and you want fresh, Alfred's is never a bad option. The prices are also fairly reasonable at this location compared to some other notable beach options.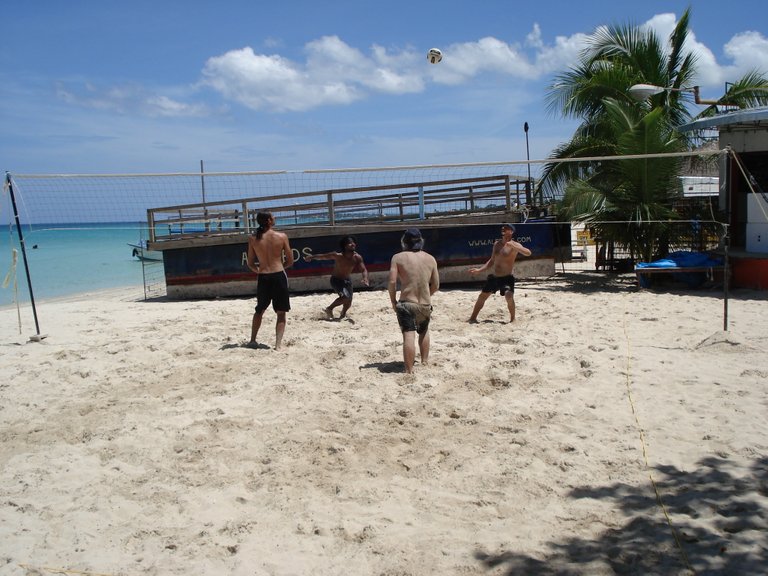 Alfred's also offers fun in the sun by beach volleyball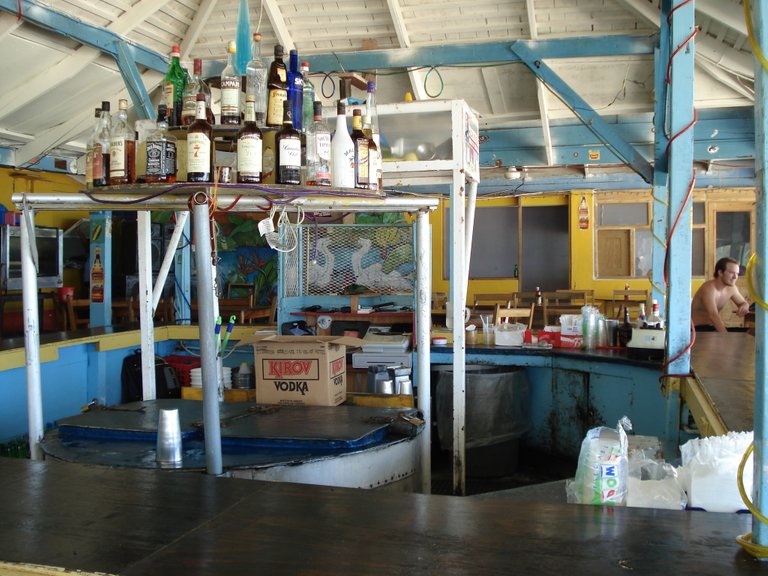 Daytime Bar look
The bar and restaurant area is situated right on the beach and boasts a walk up dine-in area allowing you to enjoy the Caribbean vibrations to the fullest. My favorite meal here is the blackened chicken with rice and steamed vegetables. The chicken is seasoned to perfection and the sides complement the dish like yin and yang.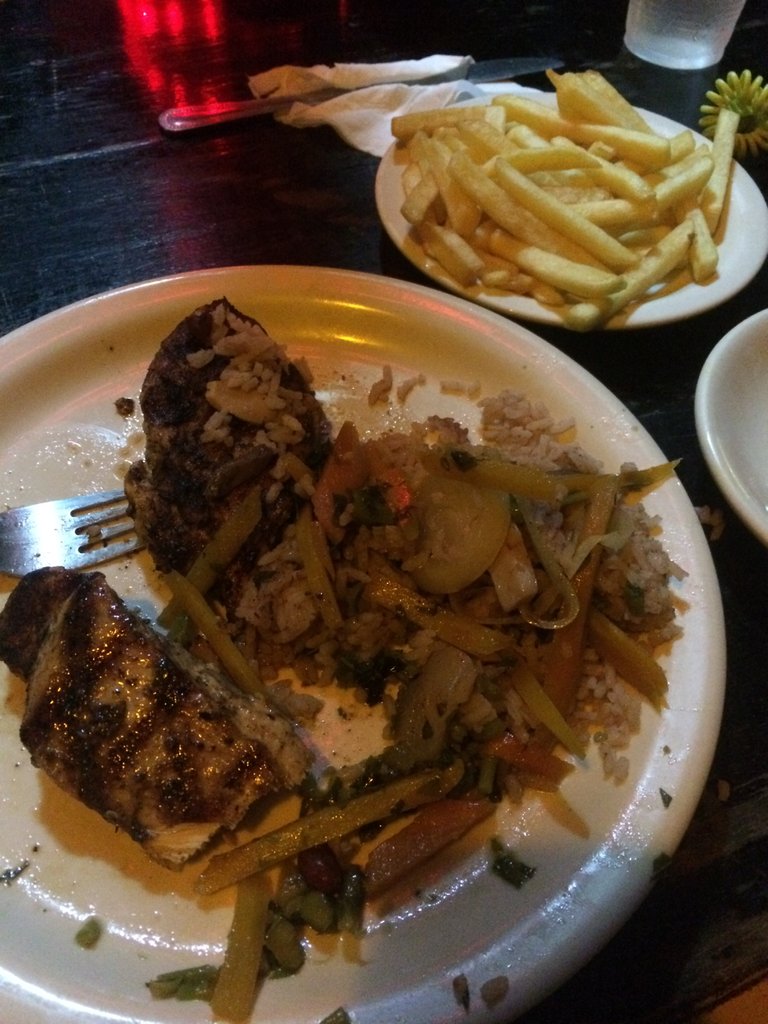 Blackened chicken meal with a sides of hot fries
Blackened chicken is not the same as jerk chicken, so pleae do not get these two vastly different dishes confused. If you want jerk, I'll tell you where you need to go in my next restaruant review. Alfred's is more than just a bar and restaurant even. If you visit their site linked above, you will see they offer live events as well as rooms for rent. I knew Alfred's hosted events, but I was unaware up until now that they offered rooms and guesthouses for travelers.
The vibes of Alfred's are pretty much conducive to what you're gonna get anywhere you go in Jamaica. There's no place that doesn't offer a unique and unforgettable experience. I guess you'll just have to go and check it out for yourself.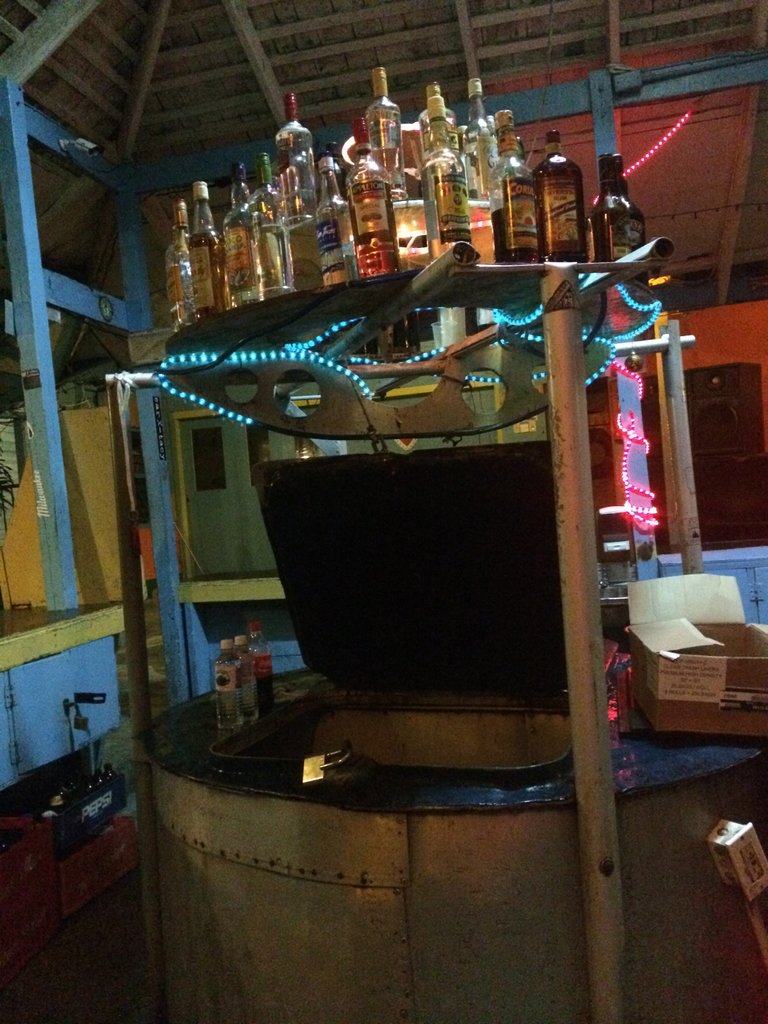 Nighttime Bar look

Alfred's Meetup with the Germans!
If you want good food, reasonably priced and diverse food/beverage options and beachfront views, Alfred's has the full package. It's also fairly closely located on the 7-mile to the West End, close to venues like the Bourbon Beach and less than 2km from the downtown Negril roundabout - location, location, location!!
Alfred's Ocean Palace
Website: www.alfredsoceanpalace.com/
Email: vacation@alfreds.com
Social Media: http://instagram.com/alfredsnegril