The Story of Robert Woolery goes...
This story dates back to August of the year 2007. My son and I always purchase a wood sculpture when we venture to Jamaica. Always. We have several wood sculptures staged around the house from our times to Jamaica. A way to look back and remember what great memories we have had on the island.
My son and I were walking the beach, looking around at various shops, when out of nowhere, we stumbled upon an old, funky shack that sat a ways back from the beach. Outside over the door read: WELCOM. TO RObERT WOOLERY ART GALLERY (this is exactly how it read on the facade of his wooden shop).
Our '07 trip was nearing end at this point, and we had been diligently searching to find a quality handmade wooden sculpture. There was a young man who greeted us. We asked if we could look around.
"Yes mon, of course. Right ahead."
As we looked around, my son and I quickly realized that the masterful artwork portrayed in this very shop was some of the best we had ever laid eyes on. Out of the corner of my eye, I saw something sitting perched up high in the corner of the shop. It was a fish. The intricacies on the scales and fins was simply immaculate. I had to look no more. This was the piece we were going to purchase and take home with us. We asked the young man about the piece.
"Let me go get my father," he quickly responded.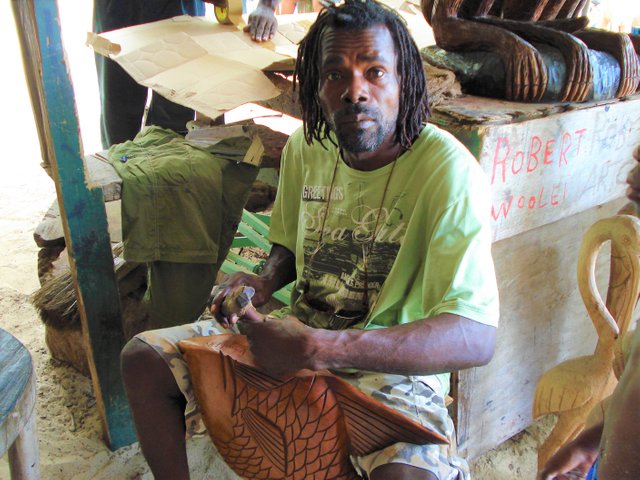 Robert engraving our purchased fish
His father, who had well kept and maintained natty dreadlocks, appeared from the shadows cast by the many palm trees lining the other shops. This was Robert Woolery. We asked him how much for the fish. He wanted something like 95 bucks, but we wheeled and dealed our way down to 75. I had bought this one for my son. We now had ourselves a lifelong memento.
The Story Continues...
In 2010, you guessed it, we were back in Negril. We went in search of our wooden sculpture. We ventured up the beach a ways to find Robert. To our dismay, the shop was closed. We were out of luck. A Jamaican man came up to us and asked if we needed help finding someone/something. We told him who we were looking for. Now the word was out about someone wanting to purchase some art.
The man told us that Robert and his son had gone off to the country where they became ganja farmers. Looks like we weren't purchasing a sculpture from Robert this year.
A few days later, we were walking down the beach. There was the man we had spoken to just the other day.
"Hey mon!" he exclaimed from afar.
We approached the man. We thought he was just trying to say hello because he recognized us. No, the news was better. He told us that somehow word had drifted to Robert that he was wanted in Negril. He had made a special trip down to meet his "fans." The man escorted us to the shop, and there standing stately abound the entrance to the shop - Robert Woolery the wood carver. Wow, this was seriously unexpected.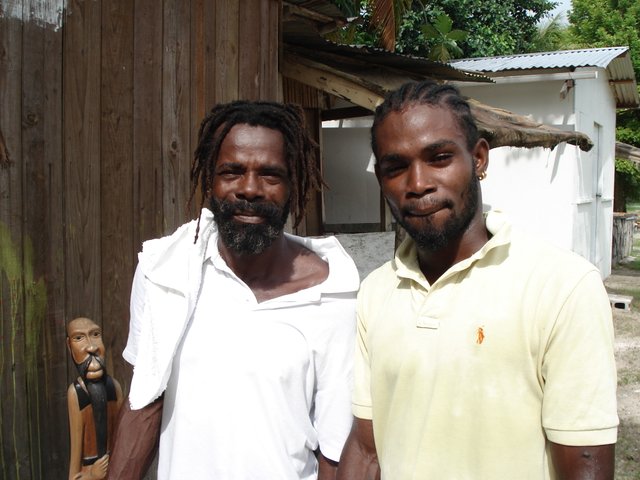 Robert Woolery and his son, Richard
We obviously looked around in search of a wooden sculpture that day. My son found one he had liked. It was a heron standing on a piece of driftwood with a small fish in its mouth. Undoubtedly one of the coolest pieces even I had laid my eyes on. The detail on the feathers was simply immaculate and the tone of the wood gave the heron so much character. My son was going to purchase the heron, with his own money, too.
I let the two hash it out. My son had learned quite well over the years how to wheel and deal.
"What's your price?"
"A lot of time and effort in this here piece, $75 dollars and it's yours."
My son thought about it for a bit, kept it on the back burner, and looked around at some more of Robert's work. After a while he revisited the discussion about the heron with Robert.
"I'll give you $35 for the heron. Dad is not paying, I pay for myself on this one."
Robert liked this. My boy was only 14 at the time, so Robert was not offended with the low counter.
"OK little man, you have a deal."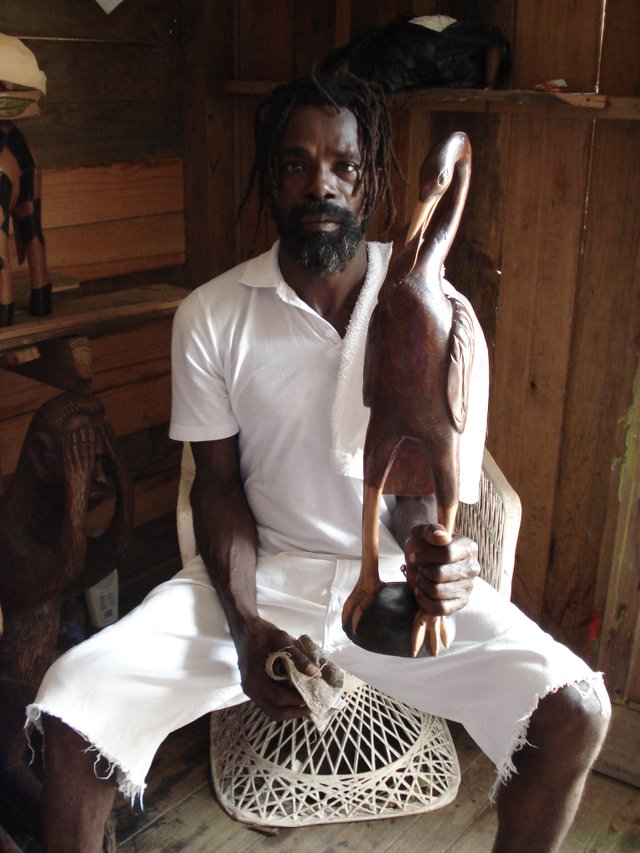 Robert with my son's purchased heron
What a deal is right. $35 for that piece. I didn't believe it. The heron still stands prominently today as a memento forever.
It's Now 2014...
That's right. There's more to this story. In 2014, we traversed the beach to see if our favorite wood sculptor in all of Negril was present. Not this time either. The shop was permanently closed up this time around. We asked, and no one knew Robert's whereabouts this time.
Finally, we found someone that did know. Robert had picked up and moved shop downtown to the crafts market. More action there. We walked the beach, all the way from Rondel to the market, roughly a 2.5 km walk. This next part of the story is actually quite crazy, almost as if it was destined to be.
We saw some wood sculptures sitting outside a shop. They were clean. We walked into the shop and had a look around. A young girl approached us.
"Hello, let me know if you need any help."
She couldn't have been more than 12 or 13 years old. The woodwork was simply beautiful. Some of the best we had seen, even as good, if not better than Robert's stuff. My son saw a turtle he really liked. It was carved in such a way that the turtle shell could be removed and the interior could be used as storage for small knick knacks of sorts. We got the young girl's attention. She seemed to be "head of the shop."
"This one here we would like to have. How much?"
"Let me go get my father," she said.
An older gentleman with short hair came from around the corner. He was still a rasta, and he looked awfully familiar. I don't think my son recognized him, but I surely did - it was Robert Woolery. His dreadlocks were gone and it looked like he had aged a bit since we first saw him back in '07. What a coincidence. A crazy coincidence. The first shop we walk into, and it is Robert Woolery's. Who would have thought? I was simply mesmerized by what had transpired on this day.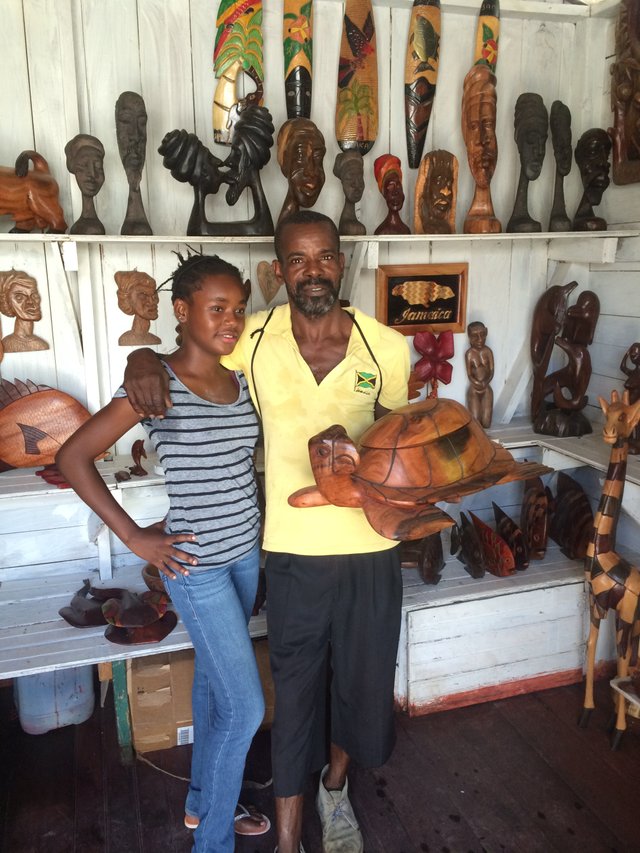 Robert and his daughter with the turtle my son had purchased
At first he didn't recognize us, but we got to chatting. His memory was jogged and a big smile lit up on his face. My son ended up purchasing the turtle and we gifted Robert and his family some clothes we had brought with us that year. An amazing story, and one that will live on forever - the story of Robery Woolery the wood carver.
Respect,
S-irieee