Reggaesteem Onboarding / Delegation Project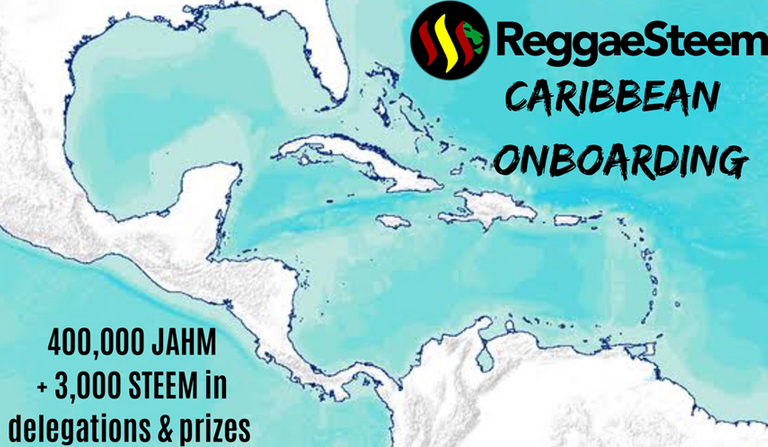 Cover Art created by @dmilliz
Hello to all the loyal Reggaesteemians out there! Firstly, we appreciate all the hard work everyone has been putting in since the project's initial launch in early-to-mid July of this year. The work you guys have and continue to pump on the reggaesteem.io feed is surely not going unnoticed on this end. The team has been talking a lot lately, throwing around ideas, discussing how exactly to take reggaesteem (RS) and JAHM to the next level, especially with Proof of Stake (PoS) and the Jamaica tourism season right around the corner.
An Onboarding Proposal for Reggaesteem
FREE STEEM & 10k JAHM DELEGATIONS (Some Conditions Apply)
If you are Jamaican, Caribbean, or connected in some way, shape, or form and share some sort of family linkage or tie, then please listen carefully. The idea has always been to onboard as many users as possible to help propel community engagement, activism and support to keep the reggaesteem feed pumping with pure, quality RS content. As the initial project was formulated, there has always been an emphasis on Jamaican's and Caribbean's alike for support from the team, and the entire community, for that matter.
With this initiative, we hope to secure influence on the platform for Jamaican/Caribbean individuals, and also get the word about RS out around the entire region. We want individuals in the Caribbean region to be aware of this opportunity on ReggaeSteem to showcase their country and culture while building necessary skills and assets for the future. It is something we shall continue to strive toward, and this project will definitely help to reach this bountiful goal. We want to see everyone succeed and flourish on reggaesteem, however, to those of you who fit this category, you may be eligible for a special STEEM/JAHM delegation from the team.
Before We Dive-in, Let's Meet the Entire RS Team:
For those of you who don't know the reggaesteem team members, including devs, advisors, moderators, curators and ambassadors, here is a cumulative list of the talented:
The devs and founders of reggaesteem include @dmilliz, @donald.porter and @miyard. A very talented trio who keep Reggaesteem JAHM'in.
@crypticat - an Ambassador and Moderator for the Reggaesteem tribe. He keeps the wheels turning and looks out for pure, quality reggaesteem content. He also delegates and runs the @jahm.whitelist account which is set up to reward high quality, pure reggaesteem content creators only.
@shanibeer and @jk6276 are both heavily involved within the community and play an intricate role through curation efforts and awarding high-quality authors with exceptional content. They are both very well-respected members of several communities and help keep Reggaesteem a place where people want and love to be at all times.
@roger.remix - a heavy investor, curator, and key stakeholder and Ambassador for Reggaesteem. He also has several ideas he runs by the team, keeping things very interesting and moving forward at all times.
@joseacabrerav @mistakili @bahagia-arbi @conradsuperb are also official Ambassadors/Moderators assigned by the team, each playing intricate roles to help propel Reggaesteem forward in their own unique ways.
@super-irie and @whatsthatcryptom, the advisors/curators who look out and vote for content, along with @crypticat, that doesn't belong on Reggaesteem, keeping this place a healthy ecosystem for all involved! All 3 are heavy, heavy curators for quality content posted to the RS feed.
Don't forget anyone else who posts exceptional content to reggaesteem.io! All content creators are welcomed, but just remember – quality is the key driving force to success. Share with us whatever it is you have to offer, and you shall be rewarded!
Project Description
For the next three (3) months, team members @crypticat, @dmilliz and @conradsuperb have pledged to delegate up to 1000 STEEM (3,000 in total) to assist qualified applicants in joining the platform. The team will also be offering up a delegation - up to 400,000 JAHM to a total of 40 individuals - who are referred to the community by existing RS members. The target audience, as mentioned above, are Jamaican and Caribbean residents (or expatriates such as @Dmilliz in Jamaica).
This is a charity, and the delegation is not for profit. Please do not try and abuse this generosity, it absolutely will not be tolerated. The referrer may split a 10,000 Jahm delegation with their referral.The referral is also eligible for a 75 Steem delegation so they can post for up to 90 days without worrying about Resource Credits (RC). I, @conradsuperb, will be in charge of, and will manage the project, with help from the entire RS team. If the project goes as planned, then delegations that have been granted may be extended longer than the original intended three (3) months.
Referers who mentor their referees to a degree, such that they are posting consistently and are comfortable with the workings of the platform, will get to keep up to 5,000 JAHM which they were originally delegated. In others words, successfully referring someone can net you up to 5,000 FREE JAHM.
If you need to set up an account for your referral visit https://www.reggaesteem.com/signup
How to quality for a STEEM/JAHM Delegation:
First and foremost, you must be either Jamaican, Caribbean or somehow connected to the previous two
Can include being Jamaican born and living in Jamaica, Jamaican born and living elsewhere, or born somewhere else but currently living in Jamaica
Caribbean born living somewhere in the Caribbean, Caribbean born and living elsewhere, or born somewhere else but currently living in the Caribbean
Some linkage to the above two through close family ties. Must be able to provide proof of Caribbeanism
Introduction Post to Meet Criteria
Please make an introduction post on reggaesteem.io and tag each of the team members as well as @reggaesteem so we know you have posted. If you use another front end, make sure to use the #reggeasteem tag. The post photo should be a photo of you with a sign saying " We JAHMIN on Reggaesteem" and also include a brief description of your background pertaining specifically to the Jamaican/Caribbean culture.
The post will then be reviewed by the team and you will either be approved/disapproved for delegation according to how the review process goes. If your story is personal and doesn't include generic facts that could otherwise be interpreted as something pulled from thin are, your photo is a personal one with a pledge sign, and the story details your relation with Jamaican/Caribbean culture, you will qualify as a delegatee. No questions asked.
Please note: We aren't going to be too hard when it comes to the review process. A simple photo of yourself or handwritten note in front of an identifiable monument will suffice or even having a quick chat on discord/facebook/telegram, etc.). Please also keep in mind this initiative is meant to help the community as much as possible and any proposals that are not made in good faith will be subject to revocation, effective immediately.
If you know any content creators out there- Reggaesteem wants them on board! If you know someone that meets any of the descriptions below, then please refer them to reggaesteem!
Jamaican bloggers/writers/vloggers/YouTubers/etc.
Talented reggae music artists- Upload your music and get rewarded!
Talented Jamaicans working from home anywhere in Jamaica - get paid for doing so, in JAHM, of course
Jamaican YouTubers- earn more revenue!!
The list goes on and on and is not limited to the above mentioned content creators.We welcome all content creators alike!
Reggae Culture Rewarded
A diverse culture rewarded community open to all walks of life. Simply join the fun and start earning today.
Please do us a favor and RESTEEM this post. The more people that know about this RS onboarding initiative the better. If you should have any questions, please feel free to ask away in the comments thread below or directly via the Reggaesteem discord channel.

Also, if you have any questions specifically about whether or not you and your referral will receive a delegation, please reach out in the comments below, or hit us up on ReggaeSteem Discord
Come Join Us On Reggaesteem Today!!
| Web | Tribe | Telegram | Twitter | YouTube
---
Posted via ReggaeSteem | Reggae Culture Rewarded