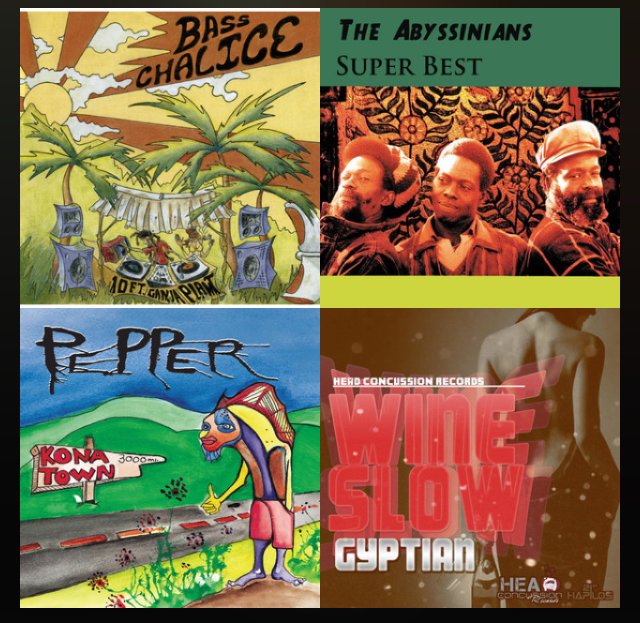 A four way reggae mix bringing some new and old flavor to ReggaeSteem. Just as I would normally want the "bad" news first, the old (more like previously posted to the feed) groups I bring you are: The Abyssinians and 10 Foot Ganja Plant.
Newly to the feed (at least from my page) are Pepper and Gyptian. I think @mariluna has maybe touched on Gyptian before, a hot Jamaican reggae artist mostly dabbling in reggae's sub genre, dancehall. He's definitely worth a listen as his stuff is current and trendy.
Pepper is another band, which I don't think anyone has touched on here at ReggaeSteem. That's good. Another new flavor to the feed, also beating @jahm.syndicator to another hot, fire, fresh band offering nothing but irie ital vibrations for listeners.
Pepper is a three piece reggae rock band originally based out of Hawaii, USA. The band now junctions from San Diego, CA and specifically dabbles in several areas such as reggae, reggae-rock, alternative rock, ska, and dub. As you can tell, they are a very diverse three-piece group, offering a lot of unique sounds to their listeners.
Since their formation in the late 90s (1997), Pepper has released a total of seven (7) studio albums and two (2) live albums. All fire spice, too, like their band name - Pepper.
Check 'em out. I'll leave you a link below 👇🏼
https://m.youtube.com/watch?v=RQ5rLBlQcQw
Posted using Partiko iOS