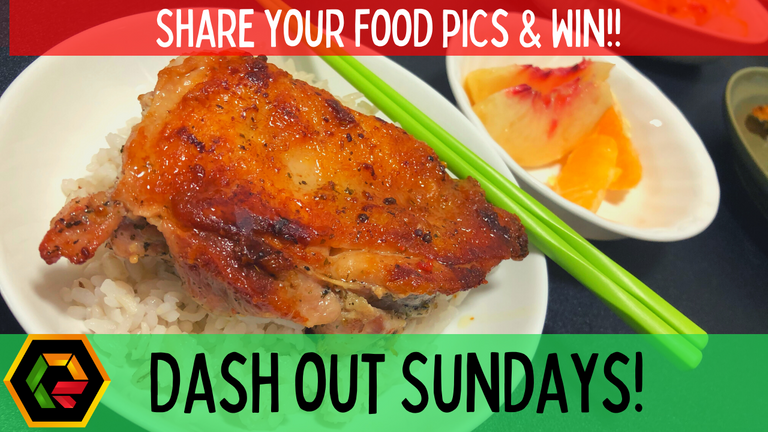 ---
Blessings ReggaeJahmerz,
Hope it's been a good weekend.
My dinner
This Sunday I had a simple dinner of garlic chicken and rice, on the side, peaches and oranges. I did have some salad too but that didn't make the photo. It was a chill Sunday mostly spent doing research and a bit of crypto move around. I think I am ready for the bustle of the week. How about you?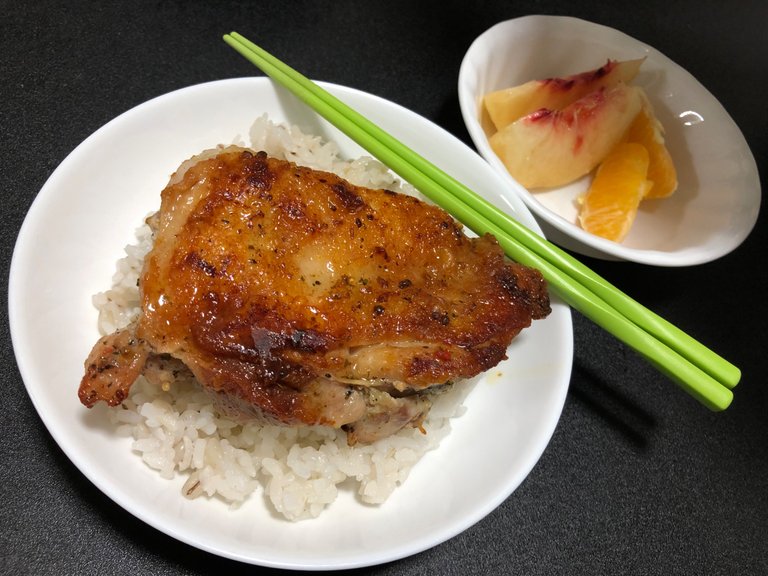 Last Week
We had 7 entries last week, it is good to see the Dash Out Sunday Contest slowly growing. There were many mouth watering dishes that made me want to grab them through the screen, but unfortunately that is not possible yet.😂. Thanks to all those who participated and to those who will participate in the future, SELAH! Without further long talk, lets dive into to last weeks winner..YUSH!!!
---
And the winner is...
🥇Congrats to @sreypov who brought us her Cambodian dish called Lort Cha or (Fried Short Noodles). I have never seen anything like this so it was interesting. (Though the noodles reminded me of Jamaican spinners dumplings). Seeing this dish made me want to try it because of the YUM factor, the healthy natural products it contains and the presentation. Are those nuts on top? 😋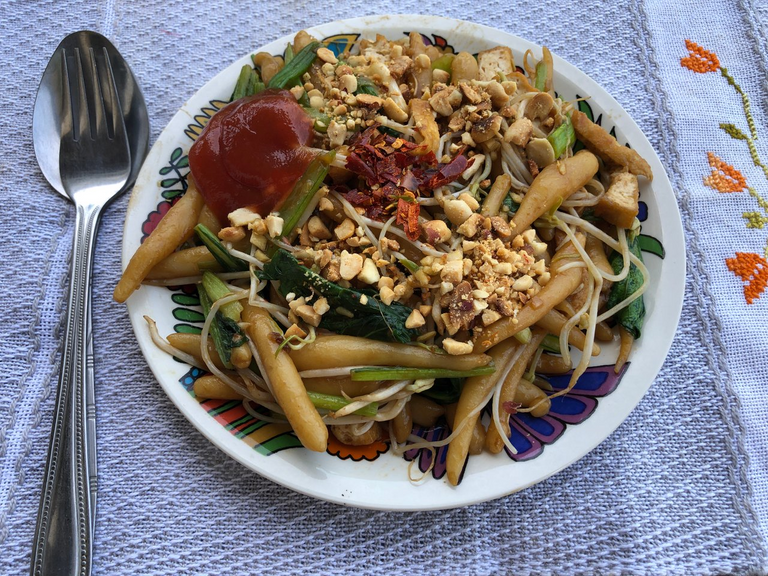 @sreypov walks away with 1 HBD and 750 JAHM. I have never seen anything like this dish in my life. Congrats ! 🏆.



Runner Ups
Ohhh you guys are lucky this week. The ReggaeJAHM account got a 2 HIVE tip on twitter from @snook. So I used it sponsor the runner up section. It pays to be active on twitter guys. By the way, follow the ReggaeJAHM twitter account here.



Note: The runner up section does not always take place.

🏅@yurilaya had a simple but mouth watering dish that caught me with that big slab of beef bone and the thick piece of meat on it ( Yeah, I am not a vegetarian 😁 ).But to balance out the heart clogging meat, it had a lot of ground provisions such as potato, pumpkin, yucca, corn and also garlic, onion, paprika and coriander. Man I could go for some of this. @yurilaya walks away with 1 Hive and 500 JAHM. Congrats!



🏅Now @babarakas43 dish wasn't the best looking but I do love me some Chinese food. it was interesting to read the thought that went behind the food. In Jamaica we call this slap dash, basically putting something together without real thought. And that he did do 😂 but it came out great. @babarakas43 walks away with 1 HIVE and 500 JAHM. Congrats dude!



---
Believe me, it is hard to chose the best dish, so what I do is chose the one(s) that I would want to eat at that moment in time, and also base it off the presentation. This is also why I encourage everyone to vote on each others food pics/comments. This way, everybody wins. That it is how I like it. WIN WIN.


🏆 And now on to week 5 🏆
Welcome to the Dash Out Sunday Contest.
Dash out means to show or throw out. Below is a short background of the idea of the contest, 😀
In Jamaican and Caribbean culture, Sunday dinner is the most looked forward to and probably the most extravagant of the week. (Hmmm, but that's probably Sunday dinner in any country right?) Dishes such as stew chicken with rice and peas, curry goat, oxtail just to name a few,delight many after their church service. ( well, those who do go to church).
With this simple contest I'd like to invite Hivians from all corners of the block to share a pic of their Sunday or Saturday dinner with us in the @reggaejahm community. It doesn't have to be Jamaican or Caribbean food but just made by you or a family member with love. Food brings the people together and while we can't physically taste what the food is like, we can see it and imagine.
Through this contest I hope to get a little more engagement within the community and also attract those outside of the community to Reggaejahm.

Rules

---
Post a pic of your Sunday or Saturday dinner in the comments below. Original photos only. They are watching👹.
---
If you bought food you can post a pic and get some votes but it won't stand a chance of winning. The dinner must be prepared by you or a loved one to be eligible to win.
---
Tell us a little about the dish in a few sentences and anything else you'd like to add.
---
Re-blog and upvote this post.
---
Feel free to make a complete post about your "Dash out Sunday" dinner in the Reggaejahm community or on ReggaeSteem.io. You can also use the tag #jahm from any HIVE Interface. Making a post is not mandatory.

Prize

There will only be one winner, and they will receive 1 HBD and 750 JAHM Tokens!

Upvotes will be given to all participants based on the community, AKA please vote other peoples' dinner pics 😂 . I'll also be giving out some JAHM Up votes and using the @reggaejahm account to give some HIVE votes.

Contest ends in 3 days Japan time, but the winner will be announced when this post pays out.The winner will be chosen by me based on food presentation and yum factor.


Good luck! And let's "Dash Out" those dinners!




Discord | Hive Community | Reggaejahm Interface | Twitter|

---