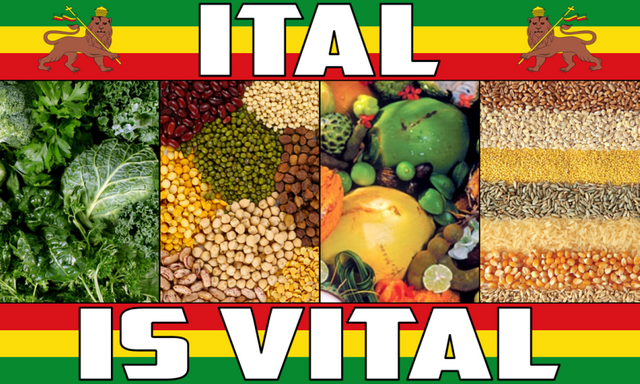 𝐒𝐨 𝐦𝐚𝐧𝐲 𝐩𝐞𝐨𝐩𝐥𝐞 𝐢𝐧 𝐦𝐲 𝐥𝐢𝐟𝐞 𝐡𝐚𝐯𝐞 𝐚𝐬𝐤𝐞𝐝 𝐦𝐞 - "𝐖𝐡𝐚𝐭 𝐢𝐬 𝐈𝐭𝐚𝐥?"

     #Ital is a term not yet well-known outside the Caribbean. Ital refers to the type of food which adheres to the dietary principles practiced within the Rastafari Movement, and a tag I intend propagate on Steem ♨️.
     This post will find itself relevant within the ReggaeSteem.io, NaturalMedicine.io, TravelFeed.io, @ecotrain & @vegansofsteemit communities. Ital is vegan, but vegan is not always Ital, and this is of interest to anyone traveling & eating within the Caribbean, especially Jamaica.
     Because not all Rastafari participate in organized religion, there is not a single body defining what Ital is, although many Rastafari groups are trying to. I hope to give you a rough understanding with this post of what Ital means to me.

⚛️ 𝐋𝐈𝐕𝐈𝐓𝐘 ⚛️

     Livity - "life" is a very finite word, resonating very similar to "death" in my mind. Words in English generally end with the suffix "-ity" that describe the state of the adjective. Some example words are "infinity" and "ability." Many Rastas see the word "livity" as a more suitable replacement for "life."
     While my own personal temporary vessel known as "the self" will come to an end one day, life can't be stopped. I am only a temporary contributor of "life," but scientifically speaking, nothing is created or destroyed in this dispension, and so "life" cannot end, and therefore is "livity." Awareness in the moment is ever important.
     Everything a Rasta does in this lifetime should be propagating livity, or sowing "life seeds," and this is especially important concerning the words that exit one's mouth, and the food that enters into it. No one Rasta has the same "livity" as the next, so therefore no Rasta's diet may be exactly the same as the next.
     I have seen both Nyabinghi and Bobo Shanti brethren an sistren drink wine and eat fish. Also, many Twelve Tribes of Israel members are vegetarian, eating dairy and eggs, and some even practice a Kashrut diet, eating beef, fish, chicken, etc. On my most recent trip to Jamaica, I noticed many Rastas are now mixing "grabba" in with their ganja. Grabba is just tobacco, which I found absolutely shocking. I now can't even confidently take a spliff or steam chalice from a Rasta in Jamaica anymore. As a Nazarite I don't consume these things, but I make no judgements, as Rastafari is a personal journey, a one-away trod.

🥗 𝐓𝐇𝐄 𝐍𝐀𝐙𝐀𝐑𝐈𝐓𝐄 𝐕𝐎𝐖 🕊️

Let my man Tony Rebel give you a brief intro to the Nazarite Vow.
     The "Nazarite or Nazarene Vow" is one the first things I feel I should address. Roughly 30% of Rastas I have met have taken this vow, as have I. This is a vow described in the Book of Numbers. I will not go into great depth about the vow of the Nazarite, because that could be a post in in itself, but here are some bullet points.
 Not cutting the hair and letting one's hair grow into locks.
 Grapes and grape-derived products are forbidden. (Some avoid the nightshade family of plants too.)
 No touching or contact with corpses, flesh and graves.
 This vow both separates the vowtaker from society and also consecrates the Nazarite, and he/she is "holy unto God."
     From these bullet points one can assume where a vegan diet would come into play. A hamburger is a corpse, so therefore at the very least, a Nazarite should be a vegetarian. Of course there are many different views on what the Nazarite vow consists of, within Rastafari, and also Christianity, Judaism and Islam. My studies lead me to believe a natural vegan diet is what the Nazarite must eat, and some Rastafari/Nazarites even eat only raw food, no cooking whatsoever.

😮 𝐒𝐓𝐄𝐑𝐄𝐎𝐓𝐘𝐏𝐄𝐒 & 𝐒𝐓𝐈𝐆𝐌𝐀𝐒 🙅‍♂️

     @Sreypov and I had a small Ital cafe in Cambodia, a country where locals and tourists both have no clue what Ital food is. At our restaurant we never mentioned it was Ital in our advertising nor to our customers. We mostly marketed our restaurant using more common words that don't carry stigma, like "healthy," "Kashrut," "Halal," "natural," "Indian," "SE Asian," etc.
     The overwhelming majority of our customers were not vegetarian or vegan at all, just normal folks looking for a good, cheap meal. The most enlightening visit came from three French construction workers who devoured our thali. They told us our food was hearty and filling, and asked what "Ital" meant. They were brutally honest, and said if they had heard the word "vegan" before coming they wouldn't have given us a chance. These gentlemen later became loyal patrons of Adwa I-tal Kitchen. I can sympathize with their fear of a "vegan" restaurant though.
     I say this because too many times when I'm in the USA for a quick visit, my friends feel the need to take me to a vegan restaurant of their choice. The food is always over-priced, uninspired, not filling and just bland. When I'm alone in the USA looking for a cheap and tasty Ital meal in unfamiliar territory, I always just look for a standard Thai, Vietnamese, Indian, Turkish, Arabic or Indian restaurant. I know I'll general find plenty of Ital choices for fair prices at places like this.
     Far too many people (Americans) are too confident in their knowledge about subjects which they haven't actually studied up on. This is why I shy away from words like"Rasta" and "vegan" in public; there is just too much misinformation out there. At least terms like "Ital" & "Nazarite" sometimes spark a conscious conversation, as the masses don't automatically assume they are experts on these topics.

🍏🍍🍓 𝐈𝐓𝐀𝐋 𝐈𝐒 𝐕𝐈𝐓𝐀𝐋 🌶️🍋🥦

Since we've talked about food stereotypes, now I'll let Macka B take over with some edutainment and explain how an Ital diet can be anything but boring.
     I can say as a chef who cooked meat 18+ years ago, both commercially and at home, that cooking with vegetables takes more talent and creativity. As I've already stated, not all Rastas are going to share the same definition of what Ital is, and I'm just providing you a perspective from my lens.
     An Ital livity isn't exclusive to just the Rastafari, for I've met many Jamaican Seventh Day Adventists and other Christians who practice an Ital diet and lifestyle without accepting H.I.M. Haile Selassie I and H.I.M. Menen Asfaw as divine. The main thing with being an Italist is to work towards building a life like it was in the beginning, before violence, war, borders, etc.
     Living in Paramaribo, Suriname on a sidestreet is not exactly living like the original people, but we strive towards saving enough money so we can own a small piece of land in the countryside, even though the original people needed no money or land deeds to build such a life.
     Our ideal Ital Livity would be to be as self-sufficient as possible in a rural setting, living a natural life and eating only what we grow. We acknowledge this dream may never be fully realized some day, but there's no reason to give up working towards this dream, because at the very least we can build a platform for our children to continue from.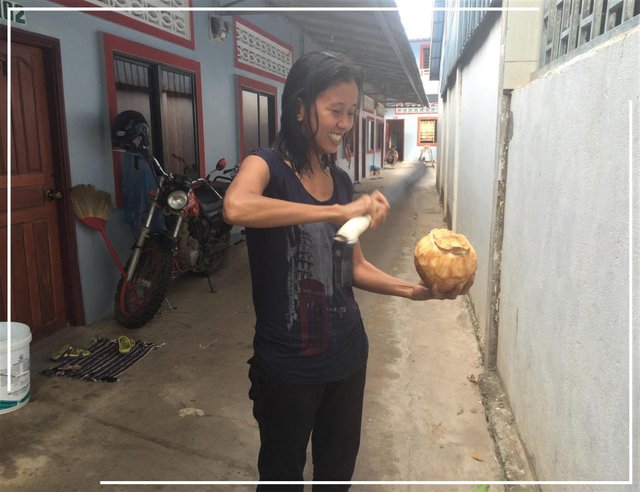 @Sreypov preparing a coconut with cat ninja-like skills 🐱‍👤
---
In my Ital kitchen, here are some things absolutely not used in food preparation.
---
flesh, dairy, eggs (all animal-derived products)
MSG (monosodium glutamate)
white flour, white rice (any bleached, processed, refined grains)
iodized salt
grapes, grape-derived products
artificial additives (colors, flavors, preservatives)
white sugar
alcohol
hyrdogenated oils
aluminum & non-stick cookware
---
Here are some things that we use often and form the core of our Ital kitchen.
---
fresh local fruits and vegetables (organic always best)
brown rice, whole-wheat flour (whole grains)
leafy greens (cassava leaf, callaloo, etc.)
sea salt, pink salt
coconut oil, olive oil
fresh herbs (mint, basil, lemongrass, etc.)
spices (cumin, kalonji, ajwain, etc.)
fresh chilies (all kinds)
beans, nuts, legumes, tempeh
fresh rhizomes (galangal, ginger, turmeric)
coconut (meat, milk, jelly, water)
palm sugar
cast-iron, clay, carbon steel and stainless cookware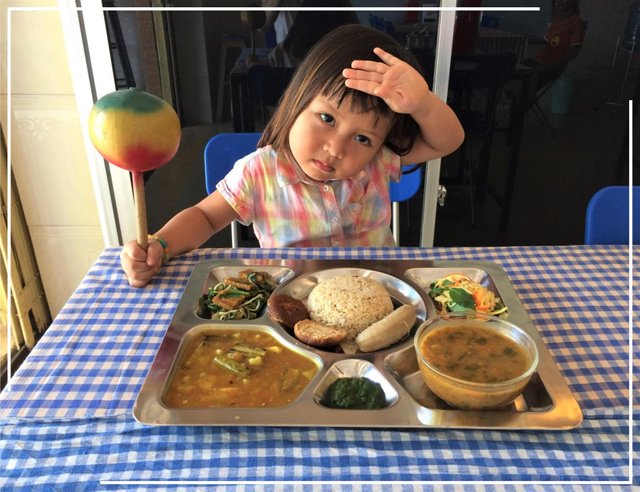 I hope this gives you an understanding or a better understanding of what Ital food is. We're excited to be located in Suriname for the next chapter of our lives, as there is some Ital awareness here among the locals. If we do get back in the food business, something unique to our Ital food is that it's not Caribbean flavors, but South and Southeast Asian flavors that we cook.
     If you find yourself traveling within the Caribbean or Jamaica, ask a local where an Ital restaurant is and you'll likely get a lead. What you eat may be very different than our style of food, but I can almost guarantee it will be made by loving hands.

𝐓𝐇𝐀𝐍𝐊𝐒 𝐅𝐎𝐑 𝐑𝐄𝐀𝐃𝐈𝐍𝐆
𝐃𝐨 𝐲𝐨𝐮 𝐡𝐚𝐯𝐞 𝐚𝐧𝐲 𝐞𝐱𝐩𝐞𝐫𝐢𝐞𝐧𝐜𝐞 𝐰𝐢𝐭𝐡 𝐈𝐭𝐚𝐥 𝐟𝐨𝐨𝐝?
𝐏𝐥𝐞𝐚𝐬𝐞 𝐭𝐞𝐥𝐥 𝐦𝐞 𝐢𝐧 𝐭𝐡𝐞 𝐜𝐨𝐦𝐦𝐞𝐧𝐭𝐬 𝐛𝐞𝐥𝐨𝐰.
𝐈𝐟 𝐲𝐨𝐮 𝐥𝐢𝐤𝐞 𝐭𝐡𝐢𝐬 𝐩𝐨𝐬𝐭, 𝐩𝐥𝐞𝐚𝐬𝐞 𝐮𝐩𝐯𝐨𝐭𝐞 𝐚𝐧𝐝 𝐫𝐞𝐬𝐭𝐞𝐞𝐦.
𝐅𝐨𝐥𝐥𝐨𝐰 𝐦𝐞 @justinparke

𝐈 𝐒𝐔𝐏𝐏𝐎𝐑𝐓 𝐀𝐍𝐃 𝐃𝐄𝐋𝐄𝐆𝐀𝐓𝐄 𝐓𝐎