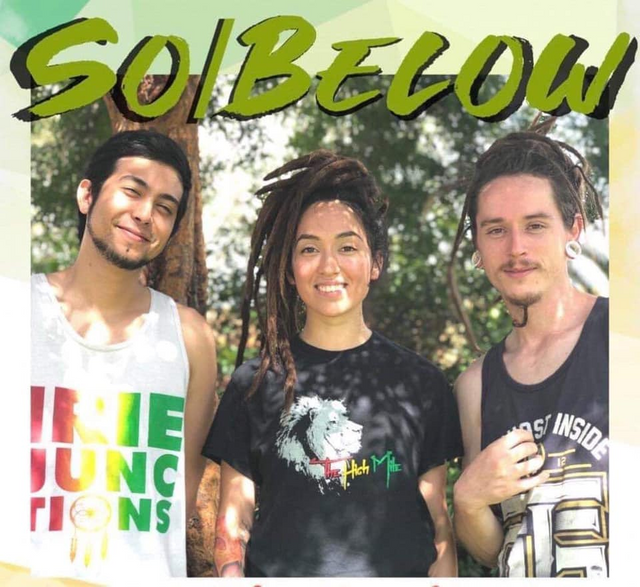 I came across a very intersting Reggae band from Houston, Texas. How I came across them was on Facebook doing some posting of ReggaeSteem content in various Reggae groups. The Bass guitarist, Myra Gomez liked one of my posts and I saw her profile pic which caught my attention. So on further look I realized she was in a band called So/Below. I dived into their web page and was impressed at what I saw and heard.
The band consists of Ryan Miracle who is the Vocalist/Guitarist, Myra Gomez on Bass Guitar and Thomas Bazan on Drums and Percussion. I read on their site that they also have osculating band members who come in at times to create unique fusions. That is cool as I feel that will keep their sound fresh and unique.
I first listened to their song called Back Again, which is a mellow reggae vibe with an ambient sound. It makes you feel real chill. It kinda reminded me of Sugar Ray but with a modern Reggae flavor. ( I hope that doesn't offend them, I actually dig Sugar Ray). The production was smooth, it has a fun factor with melancholic tones ( hard to explain but listen to understand). The song is about going on the road leaving a lover ( or loved one) at home while out touring and living, having fun, but soon to be back again. A comfort song that says, "don't worry I'll be back soon". (Well that is what I got)
Then I went and checked out a series they have called Fire it Up Fridays in which the Vocalist and Bassist do a live JAHM of song covers after blazing up ( Well that is the impression I got LOL:) This content would be perfect for posting on Reggeatube.io using their YouTube links. I like that they do these videos outdoors in nature.
Another interesting thing about this band is that they have played in 40 cities around the united sates spreading their chill, conscious-Reggae vibes on The Liberate Your Mind Tour in 2018. What really caught my attention about this tour was that it was sponsored by Bitcoin.com.
The Liberate Your Mind Tour brings together meditation, conscious music, community volunteering, and educational workshops.
The tour also focuses on spreading the message of a decentralized lifestyle and the importance of crytpocurrencies in helping detach from the system. After a little research I realized the organizer of the event is actually on steem and goes by the name of dbroze. He is an author, journalist and activist.
Give So/below a listen. Tell me what you think in the comments below.
The goal when we all lay down at the end of our long journey is to spread conscious music and ideas to everyone so we can all grow and learn to inspire everyone to achieve our dreams together.
So/Below website
So/ Below Youtube


Web| Tribe| Telegram| Twitter| YouTube
---
Posted via ReggaeSteem | Reggae Culture Rewarded