Announcing The Winner of My JAHMin Contest...
As previously discussed in the original contest post seen here, a winner for the most accurate guess of the price of the featured Rasta head would be awarded 100 JAHM. An easy way to earn some FREE JAHM. Unfortunately, it seems as though most were snoozin' for a'broozin' and missed out on the opportunity presented just 1 week ago.
The contest received only 6 guesses and @conradsuperb even tagged 5 people to actively participate! To my dismay, no more entries! Agh, come on guys!
The First, the Only, the Last...
This will be it for guessing contests - no more will be offered from s-irie. You snooze ya lose.
The Winner Is...
@DMiLLiZ was the closest guess to the actual for sale price of the piece seen in this feature photo. The real price was $3,000 USD and @DMiLLiZ guess was $1,500 USD. Interestingly enough, dmilliz is pure blood Jamaican Don, so he knew the real time it took to make such a pure quality piece like this. This Rasta head took several months and thousands of hours to make.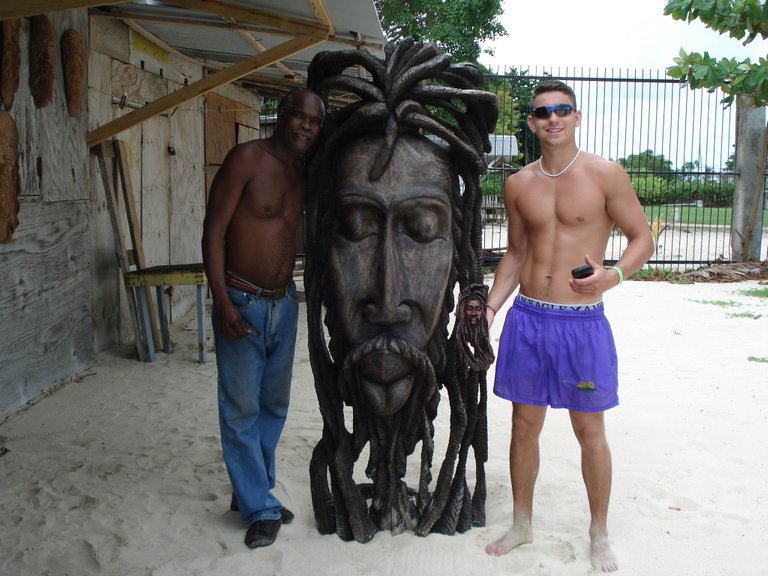 Conradsuperb and the Best Woodcarver in Negril - look closely and you can see the Rasta head CS wheeled 'n dealed for in this post
Dmilliz has pledged to donate his 100 JAHM payout for this contest. @DMiLLiZ, I ask that you please make a separate post stating what is done with the 100 JAHM prize you have earned for participating in this JAHMin contest. Your generosity is beyond thanks from the entire community- a real seen rasta, mon!
Thanks to those of you that took the time to read and take part in this easy JAHMin contest:
@leca - guess - $1,000
@doitvoluntarily - guess - $500
@crypticat - guess - $725 or (100,000 J's)
@dmilliz - guess - $1,500
@zhanavic69 - guess - $750
@jadnven - guess - $300
Respect,
s-irie
---
Posted via ReggaeSteem | Reggae Culture Rewarded