In the previous publication I made a review of the song "Born And Grow " by the artist Busy Signal, and it can be seen that in his lyrics there is a relevant social criticism, besides there is always an exaltation of the beauties of his country.
I also said at the end of that post that if you wanted to know more about this character you should see my next post, here it is, let's know a little about:
Busy Signal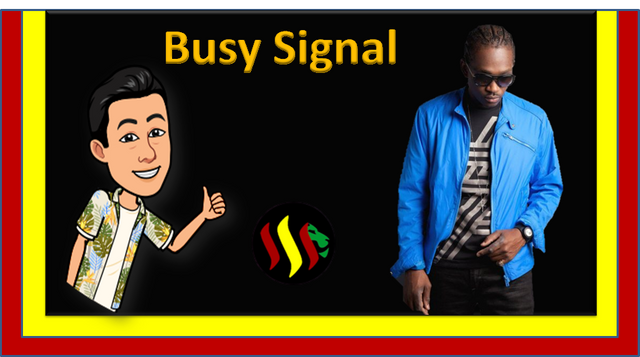 Edited Image Source
His real name is Gordon Glendale, but he's actually better known by his stage name Busy Signal.
He has lived in Papine, the Tivoli Gardens and other areas west and east of Kingston. As a characteristic to highlight, something that is very common among singers on the island, his first steps into singing were in church, along with his three brothers and sister.
Busy Signal - Stay So
He is an artist, dancehall and reggae singer, native of Saint Ann Parish, Jamaica. But if you doubt that it is in the Dance hall where he has made his greatest contributions. The nickname of Busy, is because according to his friends, he is always busy, because he gets into many things.
Discography
His discography, begins from the year 2000 with some singles, however it is not until 2005 when his single ("Step Out") gained ground in the charts:
Shake It Fast (2000)
Step Out (2005)
Loaded (2008)
D.O.B. (2010)
Reggae Music Again (2012)
I must emphasize that also in the genre reggae has made good contributions, for example, the video I bring below:
Busy Signal - Reggae Music Again | Official Music Video
Let's enjoy Step Out, considered as his first big success:
Busy Signal - Step Out
Director: Winston "Tyson" Mayhew
Producer: Robin Gordon
Editor: Image Development Studio
The violent scenarios that he often uses in his productions, the use of weapons, among many other things that are reality are very criticized by some, who say they do not agree with showing that in the videos. However, to this he says that it is part of life, and only by showing it, many can realize that it is something that impacts negatively, and the only way to solve something is by having it present. That's why part of his work is focused on helping young people.
For now I have concluded with this small biographical account of this singer, I leave again the links to his social networks, for those interested.
The emojis used are from the Bitmoji application..

versión en Español
En la publicación anterior realicé una revisión de la canción "Born And Grow" del artista Busy Signal, y se puede evidenciar que en su letra hay una relevante crítica social, además de que siempre hay una exaltación de las bellezas de su país.
También dije al final de esa publicación que si querían saber más de este personaje vieran mi siguiente post, aquí está, conozcamos un poco de:
Busy Signal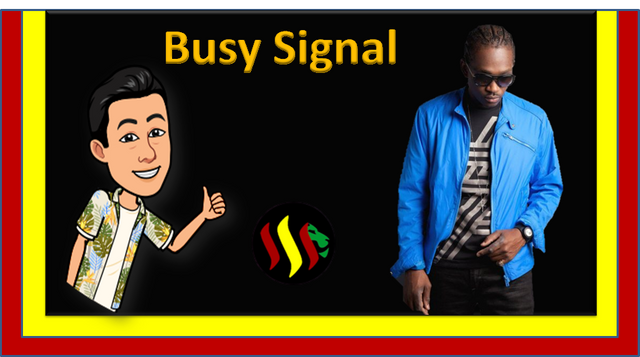 Imagen editadaFuente
Su nombre real es Gordon Glendale, pero realmente es más conocido por su nombre artístico Busy Signal.
Ha vivido en Papine, en los Jardines de Tivoli y otras áreas en el oeste y el este de Kingston. Como característica a destacar, algo que es muy común en los cantantes de la isla, sus primeros pasos dentro del canto fueron en la iglesia, junto a sus tres hermanos y su hermana.
Busy Signal - Stay So
Es un artista, cantante de Género Dancehall y Reggae, nativo de Saint Ann Parish, Jamaica. Pero si duda que es en el Dance hall donde ha realizado sus mayores aportes. El apodo de Busy, se debe a que según sus amigos, el siempre esta ocupado, porque se mete en muchas cosas.
Discografía
Su discografía, comienza a partir del año 2000 con algunos sencillos, sin embargo no es sino hasta el 2005 cuando su sencillo("Step Out") ganó terreno en las listas:
Shake It Fast (2000)
Step Out (2005)
Loaded (2008)
D.O.B. (2010)
Reggae Music Again (2012)
Debo destacar que también en el género reggae ha hecho buenos aportes, ejemplo, el vídeo que traigo a continuación:
Busy Signal - Reggae Music Again | Official Music Video
Disfrutemos de Step Out, considerado como su primer gran éxito:
Busy Signal - Step Out

Director: Winston "Tyson" Mayhew
Productor: Robin Gordon
Editor: Image Development Studio

Los escenarios violentos que suele utilizar en sus producciones, el uso de armas, entre muchas otras cosas que son realidad son muy criticados por algunos, que dicen no estar de acuerdo con mostrar eso en los videos. Sin embargo, a esto él dice que es parte de la vida, y sólo mostrándolo, muchos pueden darse cuenta de que es algo que impacta negativamente, y la única manera de resolver algo es teniéndolo presente. Por eso parte de su trabajo se centra en ayudar a los jóvenes.

Por ahora he concluido con este pequeño reporte biográfico de este cantante, dejo de nuevo los enlaces a sus redes sociales, para los interesados.

Facebook
Instagram
(https://twitter.com/busysignal_turf)

Los emojis utilizados son de la aplicación Bitmoji..




I invite to be a part of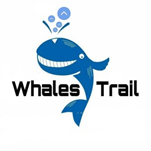 I invite you to follow the tribe