I continue with this series of publications in which I am highlighting certain female Reggae singers, who without a doubt have managed to climb positions in the musical world and beyond. This time I want to talk about someone who has a vast career as a singer and also has a fairly active social work in different countries of the world through its foundation.
I speak to you of Alfarita Constania Anderson, of Cuban nationality, born on July 25, 1946, she was adopted at an early age after separation from her parents by an aunt who lived in Trench Town Kingston, Jamaica. This is how from a very young age she was brought to live on this Caribbean island.
She is known in the artistic world as:
Rita Marley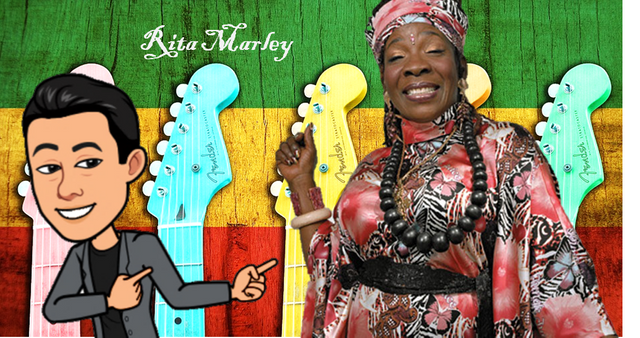 Source1Source2Emoji de Bitmojiapp
Her last name (Marley) is because she was married to Bob Marley since 1966. But her musical career began much earlier, when she formed the vocal trio called The Soulettes in the 1960s, composed of her, Marlene Gifford (a school friend) and her cousin Constantine Vision Walker. Already having some experience he dared to approach the group The Wailer, of which Bob Marley was part, auditioned and began to form part of the choir, which was also a trio.
In the picture you can see Rita Marley, Judy Mowatt and Marcia Griffiths, members of the vocal trio I Threes, which was formed in 1974 and accompanied as choristers the group of Bob Marley & The Wailers.
It should be noted that from the marriage with Bob (who died on May 11, 1981 at age 36) they had 4 children. It is after marriage that Rita converts to the Rastafari movement (In 1966)
It has a wide discography, in which they stand out:
Rita Marley (1908), Who Feels It Knows It(1981), Harambe (Working Together for Freedom) and We Must Carry on (both in 1988), Beauty of God's, Good Girls Cult, One Draw 1 (The three in 1990), Sings Bob Marley...and Friends(2003), Play Play (2004) Sunshine After Rain(2005) and Gifted Fourteen Carnation (2006).
1No doubt one of its greatest successes
"She forged an extraordinary career for herself including Who Feels It Knows It, Harambe, the 1992 Grammy nominated album We Must Carry On and Spectacle For Tribuffalos, as well as the classic reggae album Beginning, with the I-Threes. Their vibrant 1982 hit, One Draw, created waves around the world, was a bestseller with over two million copies sold and made history as the first reggae single to top the Billboard Dance Charts charts". Source
Then you can enjoy One Draw
An iconic fact within the world of Reggae:
She was the first Reggae artist to sing for a Grammy audience in 1997. Along with the I-Threes, the Wailers and their sons The Melody Makers.
As I mentioned at the beginning of this publication, it has a very outstanding social work worldwide, through its foundation.
The founder is Mrs. Rita Marley, currently living in Ghana, Africa, has the firm purpose of reducing poverty levels in developing countries through its foundation. It has many collaborators worldwide, who provide economic support and manpower to carry out all the activities they carry out.
Not only in Africa they have an important work that has made it worthy of great distinctions, but also in Jamaica, actions carried out through a sister NGO located at 56 Hope Road in Kingston.
The support provided goes far beyond providing food in specific areas, but medical and educational care, building libraries, health centers, organizing concerts, in short, that the work not only remains in the merely musical, but deepens into social problems and helps solve them.
For now I bid you farewell, hoping that you have liked this reading and that you can appreciate this artist from her different fields of action.
To follow her more closely:
I invite you to follow the tribe https://www.reggaesteem.io/

I invite you to be part of