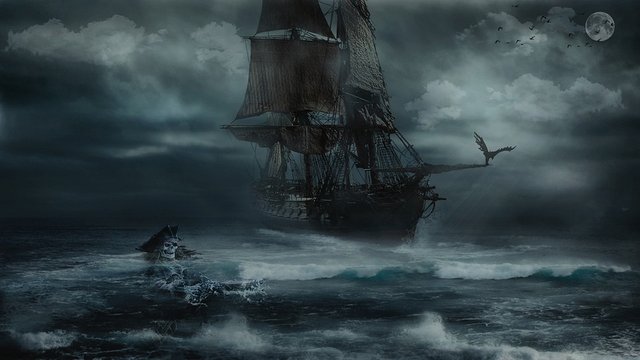 IMAGE
An exciting cruise was lived on the high seas
tourists tasting the best wines and exotic dishes,
soft music produced the musicians in turn,
a high society gala was shown as usual.
The night was fading away
to welcome a night of pleasures,
the moon appeared between the windows,
dark clouds lurked from the sky
until the brightness of the moon star is extinguished,
the flashes suddenly scatter from the clouds
making the water surface shine with surprise.
The ship's lights suddenly flickered,
Don't be alarmed! -shouts one of the crew,
This is a product of the storm, he continued.
A white light spreads between the main hall,
the shape of a woman is being figured out,
an evil laugh is heard in the air
while people are truly alarmed.
The floor was turned to water, all present climbed up to the chairs before the flood,
that woman in a faint white threatened everyone who boarded that ship.
Get out of here, or I will take you as slaves!
shouted the woman.
Suddenly the light returned to normal,
confused and frightened, all present break the silence with applause.
believing that it was an act of terror programmed during the intinerary.
However, those in charge of the boat realized that it was something real,
and that evil Annie Palmer would have returned from beyond.
This is a small literary exercise, this time taking as reference a historical character of the Jamaican community. I invite you to promote good literature. As you practice and write more, it will become easier for you to do so.
This is an Invitation to join #ccc for Guaranteed 👍 Daily Income 💵 and Payout 💸 for Newbies (2.0) 🐟 🐜 🐛 in #ccc 👣 and Follow 👣 the Honor Code 🏅 - the Creed (Conditions and Limits Inside)com/ccc/@freedomshift/guaranteed-daily-income-and-payout-for-newbies-2-0-in-ccc-and-follow-the-honor-code-the-creed-conditions-and-limits-inside)
AND
the latest update <<< please click to read.
I hope you enjoyed it, if you have any recommendations, please can leave it through a comment
This has been all for the moment.

---
Posted via ReggaeSteem | Reggae Culture Rewarded