First of all, I send a cordial greeting to the Reggaejahm team & @dmilliz. I congratulate you for sponsoring the #APART initiative.
I am a music and literature researcher. Currently, I try to learn from the representatives of Reggae, as an authentic style that seeks to express the idiosyncrasy of Caribbean peoples like Jamaica, as well as cultures from other continents, such as Africa. My study on the subject has greatly contributed to my general knowledge in the geopolitical and multicultural part. It has led me to understand music as a profound thesis, rather than a musical element for distraction.
For this, I spend hours searching the Web for valuable information about major artists and listening to their songs. In addition to researching his biography, nationality, philosophy of author and artistic career. Finally, I detail the lyrics and music of some of his songs, trying to dig deep enough to find the reason behind the lyrics. Completing the experience of "My musical elevation", which allows me to integrate into the melody and achieve the closest approach to the original musician, something similar to having met him in person. Reggae for me is a kind of archive or documentary, something that has a life of its own. A musical spectrum with its origin, history and way of feeling rooted in each segment. Articulated with an unpublished art that goes from the Tribal to the technological. Something that oversizes the basic concept of listening to music, turning it, in my opinion, into a form of elevation.
---
It is the cry of oppressed voices seeking a place of redemption, where they can put away suffering and learn from the mistakes made. They are more than songs, it is the mission entrusted by Jah, to his children, to his lambs who seek glorification and approach to God.
---
Photograph owned by the author
There will always be an aspect relative to the musical piece which identifies us. Some phrase, the chorus, the title or simply the sound, perhaps, can remind us of lived experiences or help us find answers for personal improvement. I have selected this pair of sequential images, taken by me, in an agricultural town in the Monagas State, Venezuela. Which reflect the job performance of farm workers, showing that with courage and courage they can get ahead and make their own self-sustaining economic system. Being in this case, their raw material, the same nature with which they coexist in perfect balance, in addition to allowing their integration into society in a productive way.
---
Music is dogmatic and philosophical, it is a trapped voice that integrates itself into the world in the form of a song. I am convinced that like poetry, the story, the novel, literature in general; Music is an auditory art capable of changing people and opening their hearts.
---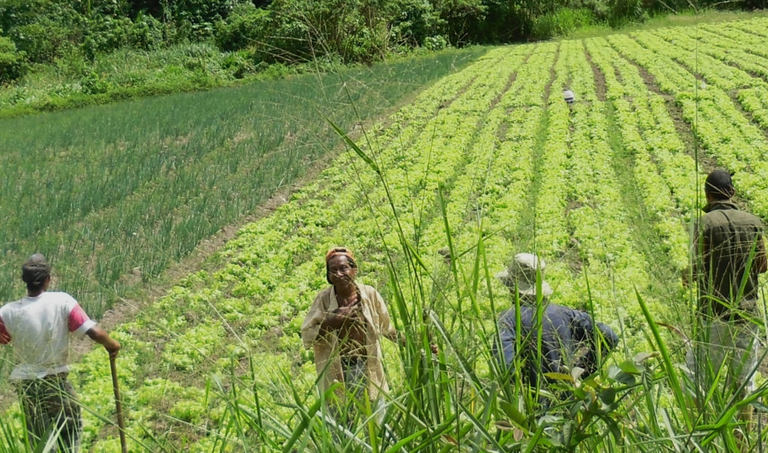 Photograph owned by the author
"So, it is my concept about Reggae. My "Musical Elevation", object of study, which makes me understand much of the reality of my Caribbean and Afro-American roots made song, turned into culture through music, historical summary heard from the voice of the greats".
The practice and performance of Reggae has spread all over the world, currently having thousands of representatives and followers from all countries, cultures and languages. It has made itself felt in Latin America, North America, Europe and the Caribbean, in Indonesia and Indochina, as I was able to see recently in one of the messages posted on the "Reggaejahm" forum , there are many adopters of reggae in these regions of the world, such as: Thailand, Philippines and Suriname (In South America). I live, in #Venezuela and from here I reveal my love and personal tastes for this influential and intense musical style, capable of awakening inspiration in me, letting me see beyond.
---
For this occasion, after doing my search for an important band that interprets Reggae with true feeling and professionalism. Taking into account the use of original instruments, as well as the use of advanced sound technologies and effects, I met a representative of the genre, who is amazing and full of professionalism.
---
(Soldiers of Jah Army).
Band formed in the year 1997, in charge of the guitarist and vocal leader "Jacob Hemphill", together with the bassist "Bob Jeffersonco" as founding members. The group performs reggae with true feeling and performs massive events with great receptivity. He is originally from "Arlington, Virginia", United States, and they have recorded more than 15 successful albums. Among its most important titles are: Born In Babylon, By My Side, Jah Atmosphere, Losing My Mind, Mother Earth, Non Partial Non Political, among many more. Songs perfectly executed with a great background message and worthy of being listened to, for personal improvement and feeling of the musical fiber.
I wanted to share the theme: "Rasta Courage" whose lyrics speak of the complexion of the Rasta community in search of an answer and materialization of their dreams of liberation. Emphasizing their spirituality and dedication to work, expressing that a world in collaboration and work together can overcome all obstacles and achieve the proposed objectives. Rasta courage goes against the society and the laws of Babylon, in search of equality and defense of human and civil rights.
"Well this is just my personal interpretation!"
Here is the video so you can establish your own criteria and draw your conclusions. I hope you enjoy it!.