Do not know what is the initiative #APART, then you're missing one of the many ways to participate in the community of REGGAEJAHM, share a photo, you want, that is your authorship, and if you think of a specific song of the genre reggae, dancehall, ska, among other derivatives, dare to share it in this community. As I will do next...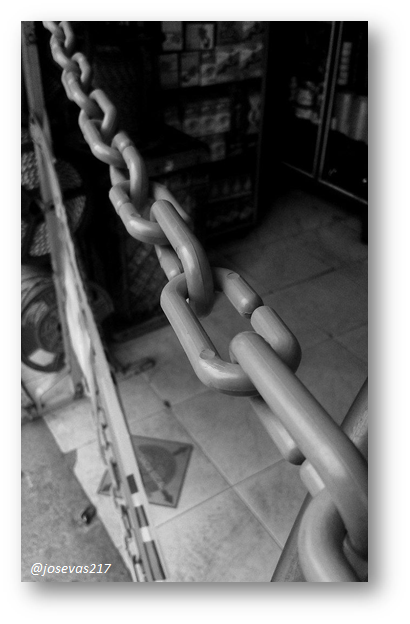 Image of my autorship
The image that I share in this opportunity, will surely be something that many are already familiar with, yes, CHAINS. In the city where I live since a little more than a month ago they allowed the population to start going out, eliminating the quarantine little by little, but with certain conditions the business owners can open, many people can not enter but must be attended from a distance by the owners of these premises, also the use of masks is mandatory, it is not optional .
In this order, the chains I present in the image on the right are placed at the entrance of a hardware store, but I can actually see them at the entrance of many places. Chains.
Is it possible to live without some kind of chains?
And I don't mean only those that we can see and feel, but there are many that are mental and keep us anchored to certain patterns of behavior that do not allow us real freedom...
Will we ever be able to enjoy real freedom?
And I don't mean being able to come and go from our homes when we want to, but those limitations that we grow up with and then assume as a norm...
They are somewhat philosophical questions, I know, but if we don't think about certain things and evaluate them, we can never know if they are really favorable to us, and to what extent they are logical, because the fact that they are a norm doesn't necessarily mean that they are logical, or perhaps they are?
Recently I heard a song, whose lyrics are very strong, and not only that, but the message of the song itself, and the video itself speaks, it is very cinematic, it is very well designed, the choice of costumes is simply great.
The singer is Ras Slick, born in Jamaica and coming from Westmoreland Jamaica, who started his singing career at a very early age, at the age of 5 he was singing in the church, which helped him to develop his vocal skills.
It takes you on a walk through different historical stages, where we can see that history repeats itself, not only through tangible chains, nowadays we can't necessarily see the chains, they are intangible but they are still enslaving.
I leave you with the video, don't stop watching it, pay attention, it is full of very interesting visual codes.
Ras Slick - No More Shackles and Chains [Official Video 2017]
In my opinion, it allows us to see that regardless of the time or race, there are things that are always repeated in favor of a few, and to the detriment of the majority...
Thank you very much for reading me.
Any comments are welcome.


I authorize the use of this banner to everyone who wants to do it.

---
Posted via ReggaeJahm | Reggae Culture Rewarded