Justin Sun's Aquisition of Steemit Inc is The Best News For Steem
Ned Scott announced today on Twitter that he had sold Steemit Inc. to Justin Sun, the founder of Tron Blockchain.
1228364811622322178?s=20 tomorrow morning at 9 am PST there will be an AMA by Ned, see twitter metadata:cmVhbE5lZFNjb3R0fHxodHRwczovL3R3aXR0ZXIuY29tL3JlYWxOZWRTY290dC9zdGF0dXMvMTIyODM2NDgxMTYyMjMyMjE3OD9zPTIwIHRvbW9ycm93IG1vcm5pbmcgYXQgOSBhbSBQU1QgdGhlcmUgd2lsbCBiZSBhbiBBTUEgYnkgTmVkLCBzZWUgfA== ~~~
here
for details.
People often confuse Steemit Inc. with Steem; Steemit Inc. is a corporation that owns Steemit, a DApp (Decentralized Application) which runs on the Steem Blockchain. ReggaeSteem, SteemLeo, SteemPeak, etc. are also DApps that run on the Steem Blockchain. Steemit's founders, Ned Scott and Dan Larimer started the Steem Blockchain which is slowly becoming more and more decentralized.
This Acquisition is Amazing for Steem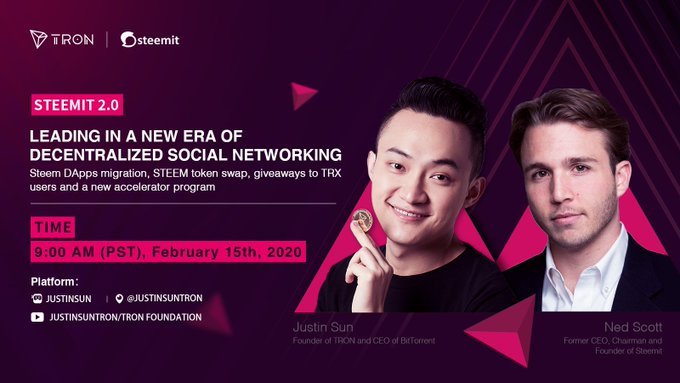 Source
For those of you who love the blogging aspect of Steem or are just here for the technology 😹 Stop Worrying, Everything Will Be OK. You will still be able to blog and post JSONs, nothing will drastically change. If you are wondering about your income/investment, the Steem blockchain has just been significantly de-risked. Justin Sun's interest is a tremendous nod to Steem. He could have bought one of the thousands of other CryptoCurrency related businesses. Tron users will more than likely pour money into this project as will other people who wish to copy Sun's business savvy.
We are Dealing with a Man Who Just Met Warren Buffett
That's right, three weeks ago Justin Sun met the Oracle of Omaha for dinner, the World's Best Value Investor Warren Buffett. And, what is Justin Sun's first order of business after meeting the World's Most Successful Investor? He Buys Steemit Inc.
How is This Not Amazing for Steem?
As you know, I have been heavily involved in ReggaeSteem and JAHM. JAHM is a reward token for people who like Reggae Music and Caribbean Culture. More importantly, the people behind ReggaeSteem want to introduce Blockchain technology to everyday people of the Caribbean in a big way. JAHMFEST is being held on June 26th to 28th in Negril, Jamaica to do just that. We would love to invite @justinsun, @ned, @warrenbuffett and everyone else who wishes to expand their reach into the Carribean while having a great time.
Can't wait to See this Relationship Bloom
If you wish to buy JAHMFEST tickets, visit the Steem Leo Shop here or reach out to us on the Reggae Steem Discord. If you are the real Warren Buffett or Justin Sun, Crypticat has you covered! That's how much I love this deal. And @ned, I got your ticket to JAHMFEST too!
Disclosure: These words are not typed by a cat. This post is not financial advice and is just an opinion. I am not your financial advisor and am not soliciting business or representing any entity with this post except for a Cat 😸 I do not recommend purchasing, selling or holding Tron, Steem, JAHM or anything except your loved ones, Happy Valentines Day!