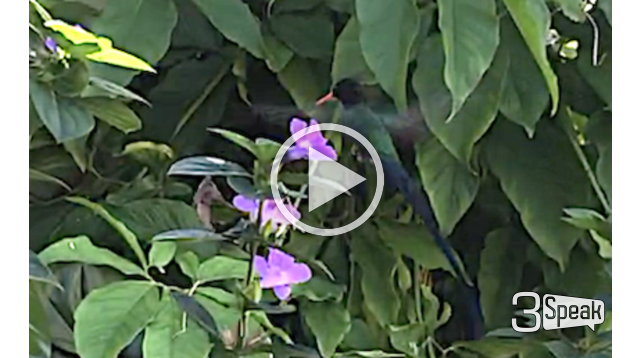 ---
Captured this one minute video of Bro-Bro, the Alpha male doctor bird that lives on property at @CANJAMRetreat. He's a huge show-off and often comes within arms length of our visitors.
I used to have coffee every morning in the Sanctuary while we were landscaping. But of late it seems he checks the front yard flowers and hangs around me for a few minutes before returning to the back.
Bro bro was a tiny little hummingbird that found the feeders first and never left. It took a couple days to notice his tail feathers growing, that's when I realized it was the indigenous Jamaican National Bird, a Doctor Bird.
Then came the fights. 😂 As an alpha he won't let any other males drink from the feeders without a battle. It's hilarious, every morning they go at it. Female Doctor birds do not grow the long tail, and have a white chest making them easy to decipher from the males.
I'll try to catch them in action one morning and share. Cheers 🍻 and thanks for watching/reading!
---
▶️ 3Speak