Used some of my excess JAHM to build up a little city on @gerber's latest game, https://steemcity.io/city unfortunately, I am now out of JAHM, and Steem but my city is growing. A few ReggaeSteem members are playing the game, we all know @donald.porter is there, I have also noticed @pouchon and @jk6276 playing. The largest city-owned by @themightyvolcano offers various buildings for JAHM, so you don't even have to spend Steem, you can spend JAHM to build up your city, they offer Steem prizes and the development team will definitely be improving the game as time goes on.
The Game is Beta

It says so in the title that it is a work in progress. They offer a Beerfest in exchange for Beer! , the token by @detlev who also posts in ReggaeSteem so he must be playing or has worked out a deal with Gerber. I'd like to see a WeedFest or ReggaeFest- MAYBE EVEN A JAHMFEST! If we get enough of the community to support this excellent project on Steem, maybe they will listen to us over at SteemCity and throw a JAHMFEST!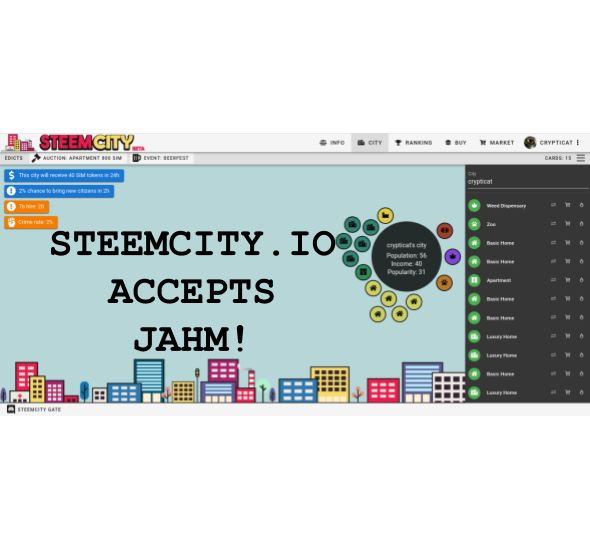 This game requires some math and careful building, there is definitely strategy involved. It's the best use case for NFTs (Non-Fungible Tokens) I've seen pop up recently on the blockchain and I like the marketplace that accepts various cryptos for building cards. They have auctions, markets, and leaderboards, there is definitely profits to be made flipping cards and doing various trades. Love to see it develop and had to establish my small but growing town in SteemCity.
I look forward to some ReggaeSteem sponsored contests and games here. Feel free to play. Note this isn't a referral link and if you don't spend any tokens, the game will not go anywhere fast. https://steemcity.io/
---
Posted via ReggaeSteem | Reggae Culture Rewarded