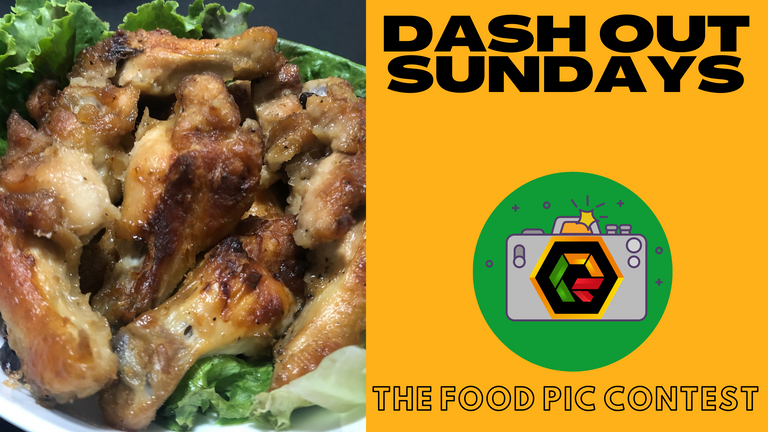 Happy Sunday!
Waahgwaan in your neck of the globe?
Today I have decided to end the DASH OUT SUNDAY contest 😞.
😃But.... #DashoutSunday will still continue. You see, at the moment I am trying to build a culture for Reggaejahm and Dash Out Sundays will be part of that culture.
Instead of a contest it will be something you can take part in every Sunday/Monday. This way we can get a good mix of content on the feed. ( 😏 food posts are one of the easiest to get voted by curation projects and also Reggaejham is now in the OCD Community incubation Initiative). Next I will start a "New tune contest" inline with building the ReggaeJAHM culture. There is nothing I love more than discovering new Reggae songs and this will hopefully motivate others to seek out new Reggae music from around the globe. It is something I feel is missing from the feed.
On Sundays/Mondays you can create your #dashoutsunday posts in Reggaejahm and the food doesn't have to relate to the Caribbean. On other days food posts are always welcome but they should relate to the Caribbean, Reggae or Ital/vegan living in some way.
My Dash Out Sunday
Today I made some oven fried chicken. I seasoned it with garlic, soy sauce and black pepper and made it sit a bit, then I covered the chicken in corn starch and popped it in the oven with a little olive oil. Much healthier than stove fried and just as tasty...maybe even tastier.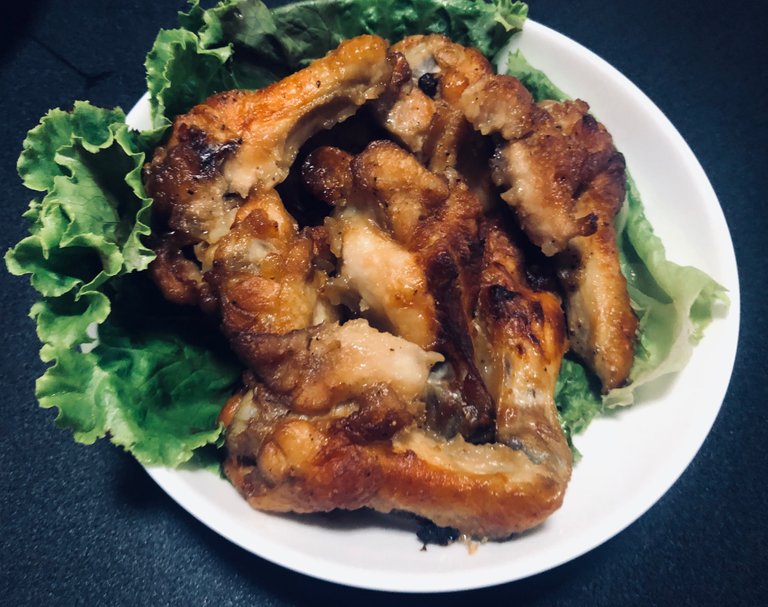 I also made a avocado ( peer ) kinda salsa salad with tomatoes and olive oil. We had that with toasted french bread, no pics of that 😅 but believe me, the go really well together, especially if you put some garlic butter on the toasted bread 😌.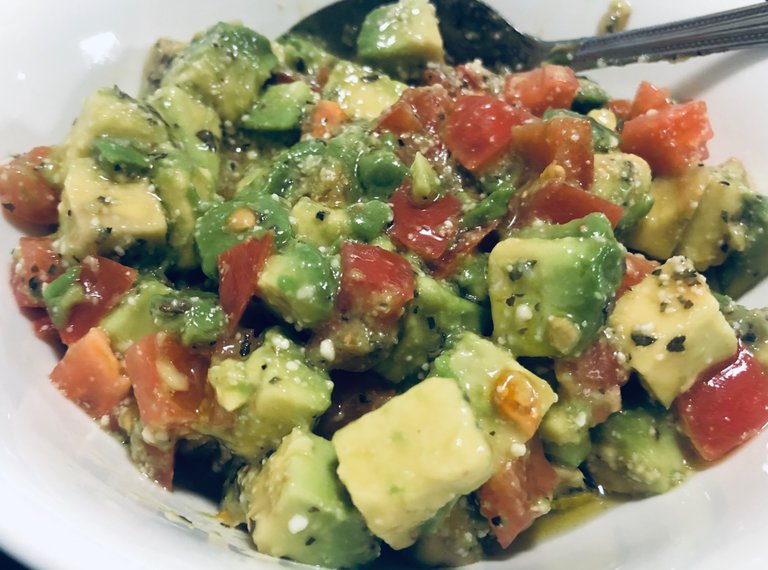 For the salad we had some "green lettuce" ( that's what the package said) with some nuts on the top with olive oil and that pink salt ( Himalayan Salt? ). Yup, olive oil is a must have in my house. We also had some left over Costco seafood pizza we had in the freezer from Friday night. The only thing missing was the rice & peas and sour sop juice.😆. All in all it was a good Sunday with good food:)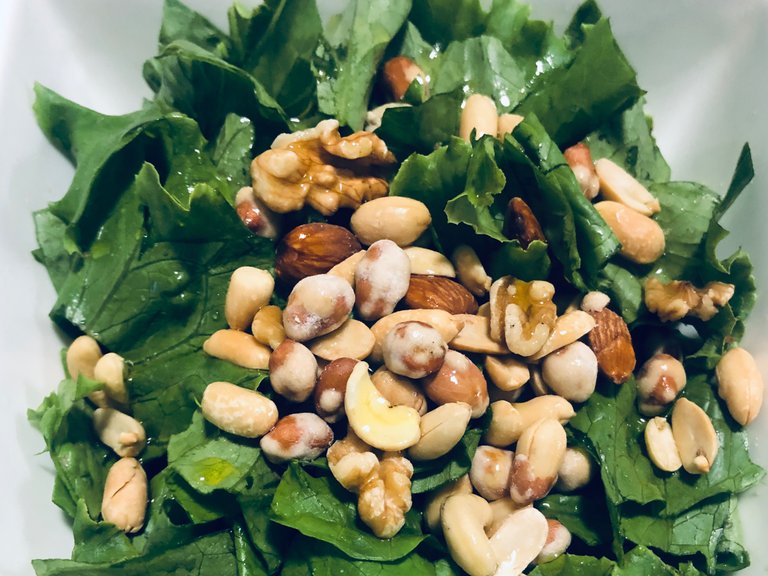 And now on to last weeks winners
---


Last week we had 3 fabulous entries.
Be sure to tell your friends about this, the final contest version of DASH Out Sunday and that it will be an ongoing tag here on Reggaejahm instead.

The prize for the final contest version of #dashOutSunday will be 6 HBD and it will be shared amongst the top 3 Dash outs in the ratio 3:2:1 along with 1,600 JAHM tokens in the ratio 7.5 / 5 / 3.5.

---
And the winner from the last Dash Out is...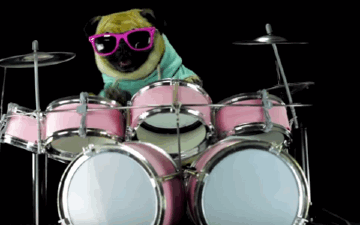 Source
And the winner is.... @sreypov with her Ital dessert called Num Banh Januk (Khmer Glutinous Rice Ball Dessert). Now this is the first dessert I have seen in Dash out Sunday, and though it is not a dinner, sweets are a big part of the Sunday meal. But this is the type of desert you can eat and not feel guilty after. The coconut milk and beans is what did it for me, I can just imagine the taste, how easy it is to digest and the satisfying feeling after eating it.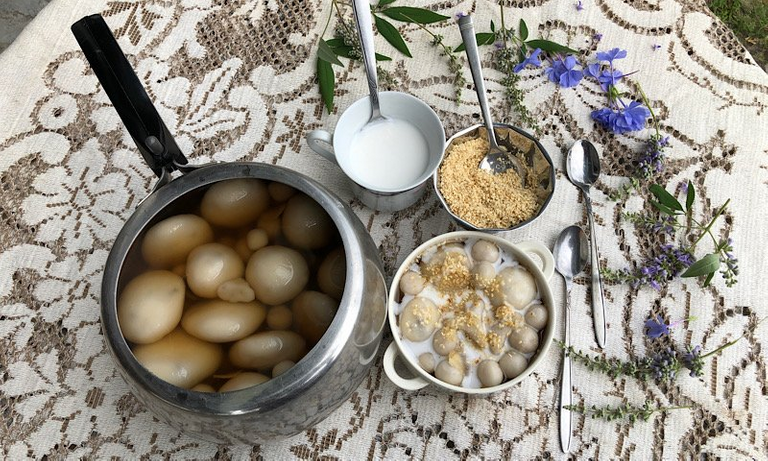 @sreypov walks away with 3 HBD and 750 JAHM. Congrats!




Honourable mentions
Big ups to @rarej and @yurilaya for their entries. One thing that is always hard about doing these contests is choosing the winner(s). You guys walk away with 500 JAHM each for your yummy entries. Grateful that you guys took the time to participate. @yurilaya had a beef stew with carrots and potatoes along with plantains on the side, it looked kinda curry-ish to me. This is my kinda dinner, she could cook for me any day. @rarej had a traditional dish from surname called "Her' Heri" which contained earthly foods.... potato's, yams, plantains and more. It also had a greens sautéed with salt fish as the yum that brought it all together. All in all some very delicious eats in this dash out.




🏆 And now on to week 7 and the final contest version of #dashOutSunday 🏆
Welcome to the final Dash Out Sunday Contest.
Dash out means to show or throw out. Below is a short background of the idea of the contest, 😀
In Jamaican and Caribbean culture, Sunday dinner is the most looked forward to and probably the most extravagant of the week. (Hmmm, but that's probably Sunday dinner in any country right?) Dishes such as stew chicken with rice and peas, curry goat, oxtail just to name a few, delight many after their church service. ( well, those who do go to church).
With this simple contest I'd like to invite Hivers from all corners of the block to share a pic of their Sunday or Saturday dinner with us in the @reggaejahm community. It doesn't have to be Jamaican or Caribbean food but just made by you or a family member with love. Food brings the people together and while we can't physically taste what the food is like, we can see it and imagine.
Through this contest I hope to get a little more engagement within the community and also attract those outside of the community to Reggaejahm.

Rules

---
Post a pic of your Sunday or Saturday dinner in the comments below. Original photos only. They are watching👹.
---
If you bought food you can post a pic and get some votes but it won't stand a chance of winning. The dinner must be prepared by you or a loved one to be eligible to win.
---
Tell us a little about the dish in a few sentences and anything else you'd like to add.
---
Re-blog and upvote this post.
---
Feel free to make a complete post about your "Dash out Sunday" dinner in the Reggaejahm community or on Reggaejahm.com. You can also use the tag #jahm from any HIVE Interface. Making a post is not mandatory.

Prize

There will be a 1st, 2nd and 3rd place winners for the final contest version of this initiative. 🥇1st place 3 HBD + 750 JAHM, 🥈 2nd place 2 HBD + 500 JAHM and🥉3rd place 1 HBD + 350 JAHM.

Upvotes will be given to all participants based on the community, AKA please vote other peoples' dinner pics 😂 . I'll also be giving out some JAHM Up votes and using the @reggaejahm account to give some HIVE votes.

Contest ends in 3 days Japan time, but the winner will be announced when this post pays out.The winner will be chosen by me based on food presentation and yum factor.


Good luck! And let's "Dash Out" those dinners!




Discord | Hive Community | Reggaejahm Interface | Twitter|

---